Verizon Is Ready with Solutions for the Way We Work Now
One program for the 2 p.m. call, another for the 3 p.m. and then another utility for the notes. Working from home during the coronavirus pandemic has shown just how disparate many companies' solutions are.
Of course, many of those companies had to scramble to get a remote work option set up for their employees, but Alex Doyle, Executive Director of Product Management at Verizon, says it's important to take the time to meet unified communication challenges with innovation now that many companies expect to have their employees working from home for months to come.
"You've got all these piecemeal technologies people are using, but I also think companies are all coming around to this concept of what's their technology stack for where they want to go. Certainly, that starts with reliable bandwidth," Doyle said. "Part two is the collaboration components, whether it's unified communication or collaboration.
"The third part of the stack is the contact center, because, if you're working within your company well but not serving your customers, you're not going to make it. And then that fourth level is really the security component. I think the people who win are going to be the companies that can bring all four of those."
Perhaps it should be no surprise Verizon adapted its operations quickly to the pandemic, since it already has a history of responding to crisis. In the past, that meant a natural disaster or another localized issue rather than a global public health crisis. Still, the experience served the company well, Doyle said.
"Whether it was Hurricane Sandy in 2012 or, more recently, Hurricane Michael in the Southeast, we're always running to help people with disaster recovery and kind of move to mobility," he said. "I think what was different this time is we couldn't run to a specific place, because it was everywhere, but those lessons learned, I think they helped us do it at scale. So, if you said, wow, we moved 95% of our population to work from home, we had a lot of experience at it."
That experience gets put to use as Verizon creates unified communications solutions companies can give their employees looking to navigate the workplace of today and all its challenges.
Twitter – @MarketScale
Facebook – facebook.com/marketscale
LinkedIn – linkedin.com/company/marketscale
Latest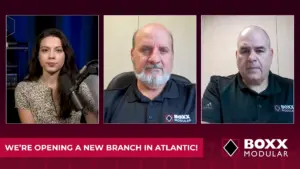 December 4, 2023
In an era where construction innovation is reshaping the industry, modular construction's growth continues to rise. In this episode of Built Modular, Boxx Modular's strategic expansion into Moncton, Atlantic Canada takes center stage. Host Gabrielle Bejarano welcomes Charles Landry and Ray Girouard to explore the implications of this venture. Bejarano, Landry, and Girouard discuss […]
Read More