Watch: 3D Print Electronics Could Help Soldiers on the Battlefield
Researchers used a customized, low-cost 3-D printer to print electronics on human skin for the first time. This new tech can be used by soldiers on the battlefield to print temporary sensors on their bodies for chemical or biological agent detection. The technique could also lead to new medical treatments for wound healing and direct printing of grafts for skin disorders.
Temporary markers are placed on the skin and the printer uses computer vision to adjust to movements in real-time while scanning. A specialized silver flake ink can cure and conduct at room temperature, which will not burn the skin. To remove the electronics, the person simply peels off the electronic device with tweezers or wash it off with water.
Latest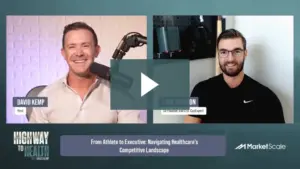 September 28, 2023
Navigating healthcare's competitive landscape requires innovative solutions addressing care quality and affordability. CapExpert is a game-changer in outpatient healthcare. It enhances asset management, ensuring the best care for patients. Luke Johnson, Co-Founder and CEO of CapExpert, spoke with Highway to Health's David Kemp on how CapExpert enhances asset management, bridging visibility gaps and streamlining […]
Read More