White House Drone Advisor on the Future of Airspace Integration: Drones In America
While the COVID-19 pandemic has required politically divergent factions to work together, this election year continues to be a time of great division in our country.  Americans are experiencing heightened anxiety and economic uncertainty due to the COVID-19 pandemic, and they are looking to sources of strength, inspiration, and, above all, unity during this trying time.
Lisa Ellman, Executive Director of the Commercial Drone Alliance and Partner and Unmanned Aircraft Systems Practice Chair at Hogan Lovells, is one such source. 
In this episode of Drones in America, Grant sits down with Lisa Ellman who is widely considered a trailblazer and visionary in the commercial drone industry. Ellman reflects on her career in the industry that began with a series of jobs working for President Barack Obama's administration (prior that that, President Obama was Ellman's constitutional law professor at the University of Chicago!).
While President Obama's administration commenced the initiative to integrate drones into the national airspace, President Trump's administration has continued those efforts without regard to the political differences between the administrations.
Ellman says, "It's absolutely a bipartisan issue – this isn't something where political differences are stark in any way and, in, fact, I think we can all unite behind seeking to enable commercial drones and public use of drones in a way that benefits society for all of us."
Foreseeing how important the commercial drone industry would become for the country, Ellman realized she could have even more of an impact by moving to the private sector, which led her to establish the UAS Practice at Hogan Lovells, as well as the Commercial Drone Alliance with Gretchen West, now President and CEO at Schiebel Aircraft.
In this episode, Ellman also discusses the importance of educating young girls and woman as to the increasingly import role they will play in the industry.  She also addresses the importance of gaining the public trust and the significant role remote identification will play in the integration of drones into the national airspace. 
Latest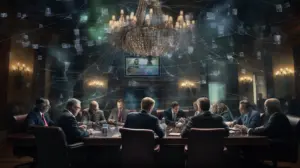 October 3, 2023
In August 2023, the National Institute of Standards of Technology (NIST) put out a request for comments on the Preliminary Update from the Internet of Things Federal Working Group (IoTFWG), which aims to provide the nation direction on how to improve IoT adoption and expand its use cases for the future of industrial, corporate, […]
Read More