Why Should I Become A Microdrones Dealer? Programs
In this series of videos, the marketing team discusses the Microdrones/Distributor relationship and examines some of the reasons to become a Microdrones Distributor. The answers they come up with have been divided into a 4 part video series. Here, they review the various Marketing and Sales Programs used in conjunction with their distributors.
Tune into the other answers at these links: People. Places.Products.
Programs
Helping forge the entire distributor relationship together are the programs and marketing solutions. It's important for a company like Microdrones to share powerful content and marketing programs with their distributors. That's because any powerful tech trend endeavor is really pushed forward by solid marketing content and being able to communicate why this technology is going to be transformative for an end user.
"A large portion of what we're doing is building our own content and telling the different stories about how Microdrones solutions are being used," explains Burghdurf. "We'll shine the light on one of our products and find out how the end-user is working the system. So, any time we can work with our distributors, and help tell their stories, it also shows how Microdrones is providing a great end solution. That's a win-win."
Marketing is a driving force behind any new technology endeavor. Join the Microdrones network and you are tapping into a global team and powerhouse of marketing potential, that is centered on you and your business.
From use cases to email blasts, blogs to webinars, the Microdrones team is always eager to showcase the good work that you and your customers are doing with integrated drones. When your customers are doing good work in the field, it's not uncommon that we send a video crew to show this new technology in action. It's a win for us, our distributors, and the end user. Everyone takes away powerful, compelling materials to use in their own sales and marketing efforts.
A Library of Content
As a Microdrones distributor, you have access to a global library of videos, imagery, use cases, podcasts and more; we always share our content with distributors so they can easily promote their new integrated drone business, without having to spend their own time or resources developing content.
Globally Local Next-Gen Lead Generation
Our multi-Language website is generating demand and pulling intrest in six different languges: English, German, French, Spanish, Mandarin and Arabic. Our team of marketing experts is eager to help you generate demand in your territory via search engine marketing, educational webinar execution and email prospect nurturing. Distributors who work with us are delighted to learn of the methods available, and the turnkey process that helps drive relevant leads for our products into their sales pipelines.
Globally Local Event Support
Are you putting on or participating in a regional event? Count on the Microdrones sales team to join you with tools, training and impactful materials to help you stand out at your local and regional geospatial events.
Literature, Apparel and Merchandise
From beautifully crafted catalogs available in six different languages (English, German, French, Spanish, Mandarin, Arabic) to Microdrones apparel, promo items and merchandise our team will work with you to get you everything you need to create engaging face to face sales opportunities.
Convenient Nurturing and Closing Tools
Transform passive customer interest into real sales. From co developing engaging webinars to crafting special offers and easy payment plans, our team of creative sales and marketing professionals will help you close deals.
To find out how you can participate and take advantage of Microdrones marketing programs and initiatives CLICK HERE to speak with one of our representatives.
Latest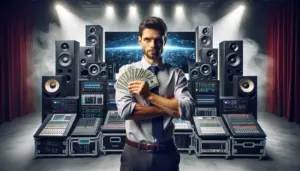 December 8, 2023
Mastering AV sales strategies in a global professional audio-visual (Pro AV) market, poised to reach $79.2 billion by 2028, requires much attention to detail. The surge in demand from corporate, government, and institutional sectors, driven by the need for enhanced productivity and efficient working environments, gives AV sales pros a lot of opportunity. In […]
Read More