Will the Future of Drones Include DJI?
Both pilots and companies are navigating a thin line between security and innovation. Host Grant Guillot talks with leaders, influencers, and experts across the drone industry to guide us through the complex web of technology and policy in the United States.
What role do foreign-made drones play in the American drone industry? Does a foreign company having a monopoly on the industry present a natural national security risk? These questions have been reckoned with in the American drone industry for years, but it's been brought back to the forefront.
Drones in America host Grant Guillot has discussed these questions in past episodes with American drone companies, as well as DJI, but the Department of Commerce officially "blacklisting" DJI has a lot of end users asking, "What is the actual impact of this move?"
To get a further understanding of this development and the immediate impact this will have on the drone industry, Guillot sat down with technology and federal policy expert Dawn Zoldi, CEO & Founder, P3 Tech Consulting.
A key consideration to this development is that this action is not a response to the security concerns that have been raised and is solely about the role DJI has in our economic imports and exports.
DJI has been placed on the "entity" list by the Department of Commerce, and any company on this list that "exports, re-exports, or transfers items, technology, or source code to a company on that list must obtain a license to do so. And the assumption is if you are on that list, the license will be denied."
While this is completely different than an action that the FAA or another government office could levy on DJI and doesn't affect any product that is currently in the hands of the end user, it will have an impact on the supply chain or manufacturing capacity for DJI, as it threatens future sales to Americans.
Latest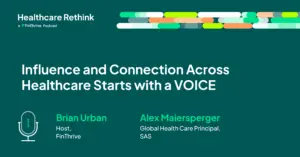 September 29, 2023
In the latest episode of the Healthcare Rethink podcast, presented by FinThrive, host Brian Urban sits down with Alex Maiersperger, the Global Principal Healthcare at SAS. Their conversation charts the role voice plays in influencing and connecting the healthcare industry. Maiersperger, who co-founded the Advancement League, shares his journey from being a healthcare optimist to […]
Read More