Will Transparency Be the Path Forward for Drone Manufacturers?
Both pilots and companies are navigating a thin line between security and innovation. Host Grant Guillot talks with leaders, influencers, and experts across the drone industry to guide us through the complex web of technology and policy in the United States.
Transparency in the drone space has typically been lacking, but one leader in the industry is hoping to change that. Discussing this in drone manufacturing, Drones in America host Grant Guillot welcomed Randall Warnas, CEO of Autel Robotics. Warnas, a veteran in the drone sector, began this new role In June and shared his vision for the company and industry.
"There has been a disconnection between manufacturers and end-users. Drones were built in silos without feedback from the user base, and we want to give customers what they are asking for," Warnas said.
In reimagining the drone manufacturing space, Warnas isn't trying to hide anything. "Country of origin is a concern, but the bigger focus is how secure is the data. My goal is to be transparent at the CEO level and fight for the commercial user or consumer."
"I assembled a pseudo dream team that I trust and are helping us face challenges head-on." – Randall Warnas
Warnas is facing new challenges as a leader, from chip shortages to defining partnerships to soliciting customer input. But, he's doing so with a capable group around him. "I have a lot of smart people around me, and we spent several days brainstorming on how to serve customers best. I trust the people around me."
Warnas also wants to change the drone narrative. While general public perception of drones did warm-up, there's not prolific adoption.
"We are just at the tip of the iceberg with drones. Part of the problem is always announcing the technology of the future. The stories should be a collective of what we can solve today. If you look at police and fire departments with drone programs, they are in use now helping to protect communities," Warnas added.
Follow us on social media for the latest updates in B2B!
Twitter – @MarketScale
Facebook – facebook.com/marketscale
LinkedIn – linkedin.com/company/marketscale
Latest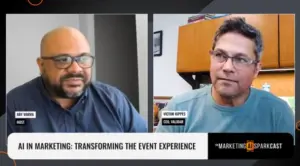 November 28, 2023
AI has been gradually changing the landscape of event technology at a very rapid pace. In an industry where staying ahead of technological trends is crucial, AI's impact on marketing and event management has become increasingly significant. As witnessed in the rise of account-based marketing and enhanced personalization, AI is effectively reshaping how events […]
Read More