AMC Looks to Issue 25 Million More Shares
AMC Entertainment Holdings Inc. is looking to potentially expand its footprint on Wall Street amidst the entertainment titan's massive stock gains. The movie theatre chain's stock price is up more than 2,000% this year. Watch below as Bloomberg's Juliette Saly provides additional insight into AMC's current state.
The proposal will be submitted to shareholders at an annual meeting on July 29th.
Host: AMC, then jills wants to capitalize on the recent rally by issuing new shares, I mean, I guess if you're the management of this business. And that you're in a business that maybe needs some investments, that you maybe don't ask too many questions about why your stock is rallying and just take the opportunity.
Saly: Strike while the iron is hot, and indeed they've raised $800 million in this a frenzy this week, and now AMC wants to issue 25 million more shares. Importantly, though, they say that they will not do that this year. Now, they've issued a regulatory filing for this plan to issue new shares at today's prices. They'd be valued at $1.3 billion. And the proposal will be put to shareholders at an annual meeting on July 29th. Now, in a YouTube video, the company's CEO, has said proceeds from this equity sale, if approved, would be to use to reduce debt, help the company negotiate with landlords who are owed some $400 million and to, quote, chase acquisitions hard.
Now, this is a major retreat from when they wanted to issue 500 million new shares earlier in the week. And they didn't ever earlier in the year, I should say. They never got that to shareholders because they realized that that would be rejected. We are starting to see some bearish signals emerge. We saw, as you mentioned, AMC shares falling post trading and also looking at Germany's trade gate. AMC Entertainment down some 13% from the closing price on Wall Street on Thursday at 36.78 euros or 44.54 in the US dollar terms. So that's a drop of about 13% showing some of these bearish signals.
Host: And Julia, what's this? I'm hearing about retail traders in Asia also want in on this volatile action.
Saly: Yeah, nothing like a bit of FOMO with in particular interest coming through in India and South Korea on trading platforms for investors in these two nations that have access to us stocks, in particular in India, we've seen EMC among the five most traded stocks on two of their platforms, which is vested finance and Stoeckle. In fact AMC has accounted for 14% of all trades. So that's more than Tesla, Shopify and Facebook. And then over in South Korea, we've seen investors buy $225 million worth of AMC shares this week. That's about three times the amount on Tesla and a popular online forum among Korean investors. So it's similar to a Reddit type forum discussing the prospect for AMC and what could be the next meme stock and they are suggesting Blackberry.
*Bloomberg contributed to this content
—
Follow us on social media for the latest updates in B2B!
Twitter – @MarketScale
Facebook – facebook.com/marketscale
LinkedIn – linkedin.com/company/marketscale
Latest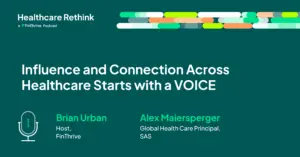 September 29, 2023
In the latest episode of the Healthcare Rethink podcast, presented by FinThrive, host Brian Urban sits down with Alex Maiersperger, the Global Principal Healthcare at SAS. Their conversation charts the role voice plays in influencing and connecting the healthcare industry. Maiersperger, who co-founded the Advancement League, shares his journey from being a healthcare optimist to […]
Read More