Bally Sports Plus Bets Big on Streaming at Regional Sports Fans' Expense
Sports streaming is in trouble. Much has been made in recent year about the stadium experience and how it has been surpassed with sports on TV. With ticket and concession prices rising, the thought is that it's simply not worth watching your favorite team from the stands anymore. Is that really the case, though? There are troubles for the platforms hosting these games and their approaches to keeping fans locked in to more and more streaming options. Recent financial reports from Bally Sports, a regional sports network group which runs its own streaming service, Bally Sports Plus, revealed significant year-over-year profit drops. Diamond Sports Group, the company that owns Bally Sports, also reported a 10% year-over-year drop in subscribers as well. How much of this has to do with the compounding costs of streaming services, and some of the questionable decisions behind Bally Sports Plus' pricing strategy?
Tyler Kern, Sr. Director of Media at MarketScale, breaks down the state of play for sports streaming:
"If you're anything like me, you probably subscribe to multiple different streaming platforms to catch all the different sports that you wanna watch, right? ESPN Plus has a bunch of stuff on there. I subscribe to a lot of soccer specific ones, so like Peacock has all the Premier League games, so I've subscribed to that. So there are a lot of different streaming platforms out there, and one of those platforms is Bally Sports Plus. Let's talk a little bit more about them. They operate 19 regional sports networks, and so 42 different MLB, NHL, and NBA teams all are broadcast on Bally Sports across the country to their regional audiences.
So they have 19 different regions that they cover. I live in the southwest area in Texas, and so we have Bally Sports Southwest that has the Texas Rangers, the Dallas Stars, and the Dallas Mavericks. Bally Sports is owned by Diamond Sports Group, which is a subsidiary of Sinclair Broadcasting Group. So let's get to some of the numbers because they don't look good right now for Sinclair and so I want to talk a little bit more about why I think that is. The numbers are that Sinclair generated $843 million in revenue in Q3 of 2022, which is a 45% decline year over year. It's not great. And then Diamond Sports Group, the owner of Bally Sports has reported a 10% decline in subscribers in 2022 as it faces potential changes in ownership or structure. And so those are some of the numbers, some of the details, some of the facts."
Kern believes one of the factors at play here influencing a decline in revenue, beyond a tumultuous media market, is Bally Sports Plus, its content and its pricing model. The company has bet big on the loyalty of its regional sports fans by locking down access to regional games at $19.99 per month, one of the highest monthly streaming platform costs out there. On top of that, in an effort to silo its content and keep as much of a market share as possible in an increasingly competitive streaming age, Bally Sports Plus declined to share broadcasting rights of regional games with other streamers or broadcasters. Kern gives his analysis on the impact of this business model:
"Bally Sports made a big gamble by not allowing their channels to be broadcast on streaming cable providers like YouTube TV, Fubo, those sorts of things. So it really handcuffed people who had already cut the cord to say, 'hey, when are you guys gonna create a streaming subscription? Otherwise I'm gonna have to switch back to a cable provider.' And a lot of people didn't want to go through that hassle, myself included. So when Bally Sports finally announced, 'hey, we're gonna have a streaming platform, we're gonna have an app, you're gonna be able to watch your local teams again,' I was like, this is great. However, the cost for that is $20 a month or $190 a year, which is a lot higher than other apps are, right?
You can go look at ESPN Plus, it's not nearly as expensive as Bally Sports. And so Bally held those local teams hostage by not allowing them to be broadcast on places like YouTube TV and that sort of thing. And then when they did release an app, charged an arm and a leg, which was above what many people were willing to spend, when you're already piecing together a lot of different content from a lot of different places."
Latest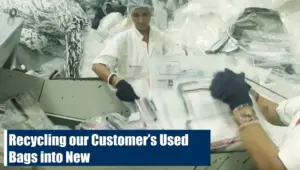 December 6, 2023
This video focuses on EcoLOK4, a groundbreaking product by CONTROLTEK that exemplifies innovation in sustainability. It highlights the process of transforming landfill waste into new deposit bags, with 90% of each bag's material being repurposed trash. This initiative not only reduces waste but also closes the sustainability loop, demonstrating CONTROLTEK's commitment to environmentally friendly […]
Read More