The Buck Stops Here: The MLB Park Where You Do Not Need Your Wallet
Imagine leaving your house to go to the big game and all you need are your keys and your phone. There is no need to stop by the bank to get cash, or worse, get to the stadium and be forced to pay the six dollar "convenience" fee on top of the amount you are withdrawing from the ATM.
In 2017, 86 million people worldwide used Apple Pay. Chances are you probably have a smart pay app on your phone, whether through Google, Samsung, or Apple.
The ease and convenience of going cashless is great for those who are aware of their spending. Either way, vendors and retailers are banking that on game day you will be wrapped up in the moment of the event. Where you might be spending the extra few bucks on that foam finger or pint of beer, not having enough physical cash is no longer a barrier to buying what you want.
A recent study showed that when paying for transactions, about 13 percent of people would rather pay with a mobile app or deal with another form of cashless transaction.
Recently, Major League Baseball's Tampa Bay Rays announced that their 2019 season home games will be cash-free. That means no more worrying about bills and coins falling out of pockets or being short a dollar. Everything will be paid by card. For those that do not have a credit or debit card, cash can be exchanged into gift cards that can then be used in the stadium.
This move, a first for a major professional sports venue in the U.S., will certainly reduce costs for the arena. Having all payments made electronically cuts down on revenue loss, whether from miscount on the till, incorrect change, or employee theft. Stealing can still happen, but it will be easier to track since there will be no change of hands.
The popularity of paying from your cell phone has increased from 2017, when 64 percent of Americans made payments from their mobile device. Thanks to the popularity of apps such as Venmo, Chase Pay or PayPal, more Americans are relying on their phone instead of their actual wallet.
Wait times at concession stands during breaks in play at stadiums can be shortened thanks to apps that some venues already offer, which enable fans to order from their seat or while waiting in line.
According to Forbes, wait times at Tropicana Field were cut down to two minutes, compared to the seven minutes it averaged with a mix of cash transactions.
The National Football League (NFL) is jumping in the same direction, partnering with Visa to someday create an entirely cash-free Super Bowl. Visa hopes to accomplish this goal before its contract with the NFL ends in 2025.
"Looking ahead, we see a cashless future for NFL fans where events, including future Super Bowls, are digital, creating a more secure and seamless payment environment for fans and concessionaires alike," Lynne Biggar, Chief Marketing and Communications Director for Visa said in an interview with Fox Business News.
Though several stadiums and events now favor credit and debit card payments over cash, perhaps the Rays' 2019 season can shed some light on how profitable the future of a "card only" policy in stadiums will be.
For the latest news, videos, and podcasts in the Sports & Entertainment Industry, be sure to subscribe to our industry publication.
Follow us on social media for the latest updates in B2B!
Twitter – @SportsEntMKSL
Facebook – facebook.com/marketscale
LinkedIn – linkedin.com/company/marketscale
Latest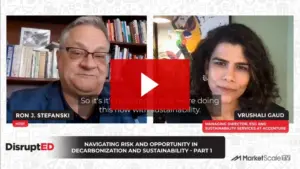 September 26, 2023
The global conversation has shifted dramatically towards decarbonization and sustainability in recent years. With the world experiencing unprecedented levels of disruption, from 5G technology to the challenges of a pandemic, the urgency to address climate change and its implications has never been more palpable. Although most business leaders see the vision of Sustainable Development […]
Read More