Creating the "Siri" of Fantasy Football: Salary Capped
Welcome to Salary Capped, presented by MarketScale, where we explore the intersection of business and sports. Each week, host Tyler Kern will chat with the leaders, marketers and innovators that are powering sports into the future.
As of late July, it is up in the air whether or not the NFL football season will begin in September. But if it does, something that is 100% guaranteed is the fact that sports fans will need a little help with fantasy football lineups. How do you begin to predict such an unpredictable season?
Tyler Kern sat down with young entrepreneur Ari Salsberg, creator of the "Siri" of fantasy football: Felix. The startup uses an SMS-based AI-powered chatbot that helps people get fantasy football advice using data-driven algorithms and advanced ranking techniques. Put simply, Felix can answer your fantasy questions via a text message. Listen as Salsberg breaks down the impact this service could have on the fun and money around fantasy football.


Latest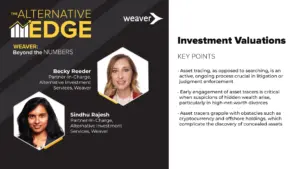 December 4, 2023
In this episode of The Alternative Edge, a Weaver: Beyond the Numbers Podcast, host Becky Reeder, an audit partner and co-leader of the alternative investments practice at Weaver, engages with Sindhu Rajesh, an Alternative Investment Services Partner with Weaver. They unpack the complexities of venture fund valuations, offering critical insights into industry dynamics and best […]
Read More