Using the NFL Combine to Define What Data Matters: Diving Into Data
With topics ranging from the "underwear Olympics" to the impact of the Coronavirus on economics, this week's episode of Diving Into Data with T.C. Riley is dynamic.
The NFL Combine, which is nicknamed the "underwear Olympics," is an event where athletes likely to be drafted by the NFL are assessed in-person. Riley called this the "data version of scouting." At this event, athletes' physical features are measured, soft skills are tested, and there are opportunities for networking.
Riley pointed out that by televising this event for the past decade, "the NFL has taken over our calendars year-round." Viewers get a peek behind the scenes at the push to make drafting an exact science. By the end of the event, athletes have scores on their physicality, skills, experience, and more. This allows teams to determine their topic picks based on the data that matters most to them. For instance, Riley highlighted that the Seattle Seahawks have often favored tall quarterbacks and the Oakland Raiders tend to prefer fast athletes.
Beyond the impact of data on the NFL, Riley also discussed data related to the spread of the Coronavirus.
During a previous episode of Diving Into Data, Riley discussed how the Coronavirus might have a global impact. Since that time, the virus has crossed borders, affecting many in Italy, Iran, and South Korea. The United States also has a few cases. As a result, there are quarantines and other challenges occurring in several countries.
The global influence of the virus still remains to be seen, but there are indications of significant economic impact. For instance, just a few weeks ago experts through the global growth forecast could go down slightly. Now, some experts are saying it could reach 1.5%, which would be half its current standing.
Riley also discussed stock market fluctuations, changes in the pollution rate in China as an indication of decreased production in factories, and more. Tune in for the details, and listen to Diving Into Data next week for discussions about Google updates affecting SEO, Super Tuesday data, and more.
For the latest news, videos, and podcasts in the Sports & Entertainment Industry, be sure to subscribe to our industry publication.
Follow us on social media for the latest updates in B2B!
Twitter – @MarketScale
Facebook – facebook.com/marketscale
LinkedIn – linkedin.com/company/marketscale
Latest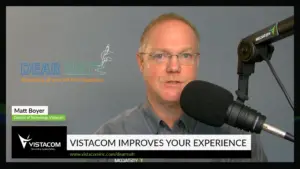 December 11, 2023
In a time when the AV industry supply chain faces unprecedented challenges, understanding its current status and future trajectory is crucial. In this week's segment of "Dear Matt," presented by Vistacom, host Matt Boyer, the Director of Technology at Vistacom, brings his over 30 years of experience in the audiovisual industry to the status […]
Read More