How Technology Became Team MVP Across Professional Sports
In 1982, sabermetrics was created to help more thoroughly evaluate baseball players' impact on the result of a game. The strategy of gathering data and using it to determine who is best suited to play is not a new one. How teams are going about gathering information and methods by which they are obtaining player stats though, is continuously evolving.
David Geddes, President and CEO of The International Sports Technology Association (ISTA), a global organization whose mission is to promote the adoption and furthering of education of sports technology, says new innovations are continuing to refine how teams operate at an every level.
"Video has re-emerged as a great tool where sophisticated algorithms help trainers and coaches do their jobs more efficiently," he said.
Geddes went on to mention several companies in the emerging sports technology field that the industry should take note of, such as Swiss video analytic solution provider DartFish.
DartFish provides a 3D rendering solution that can customize video reels with illustrations and data from third party applications. This system uses graphics in a sport like football to illustrate exactly which direction a kick is going or to point out what positions could have been taken to improve the outcome of a play.
Geddes also mentioned Santa Monica, Calif. startup REELY, saying it, "had recently signed a deal with a collegiate conference to edit game video on their platform to provide coaches highlight reels."
REELY uses an artificial intelligence (AI) system that automates the video editing and highlight-cutting process for all sports, even esports. The startup is partnered with Gamerzarena, a website that hosts contests which gamers can enter for the chance to win cash prizes or sponsored gifts.
As for software currently available to identify a team's and player's strengths and weaknesses, Geddes said there is still room to grow.
"There are very few software packages that do matchups well enough to use in real games but there are statistical engines within athlete data platforms that provide 'casual' recommendations," he noted. "The use of sophisticated 'Monte Carlo' simulations to make predictions is common in high levels within motorsport, however, most athlete endeavors do not have good enough data to do this, yet."
With all the technological advances being developed and demand from coaches and teams increasing, professional leagues need to not only focus on the players competing on the field, but also the fans cheering them on and the businesses sponsoring them.
"The discipline of artificial intelligence applied to sport is maturing as in other industries. One area that has emerged, which doesn't get much notice, is in crunching data about sports events to better understand the value of ads and sponsorship," he said. "This is being used to help data and analytics teams understand how brands are perceived and viewed. Let's not forget that modern sport is funded via corporate sponsorship, so understanding the return on investments is critical for brands who often spend millions on one event."
Organizations like the NHL, NFL and the NCAA are attaining services and products from companies who concentrate solely on the examination and tracking of data from each team within their league. One of the companies supplying their services to those leagues is XOS Digital, Inc.
In 2012, XOS Digital acquired StratBridge's analytic evaluating system, StratEdge. The latter was an analytic system used to evaluate sports teams by using calculated player stats, along with integration of video data and scouting reports. The information gathered was then used by coaches and front office personnel to better evaluate players and free agents.
XOS Digital has been a provider of technology enhancement in the realm of sports since 1994. The company provides their clients with a variety of top technology solutions from coaching, officiating, recruiting and scouting solutions, to providing tools to gain insight and data collection on their players during the game and practice.
On April 27, 2017, XOS Digital's parent company, Australia-based Catapult Group International, (who acquired XOS Digital in July 2013) signed a league-wide agreement with the NHL. The company provides video made for tablets that can be accessed on a team's bench during play. This way players and coaches can better analyze their actions in real time.
The agreement began with the 2017 Stanley Cup Playoffs where XOS Digital services and products would be used by the 23 teams in the league.
Latest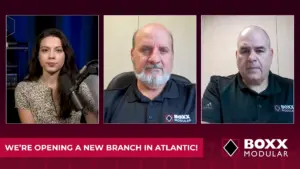 December 4, 2023
In an era where construction innovation is reshaping the industry, modular construction's growth continues to rise. In this episode of Built Modular, Boxx Modular's strategic expansion into Moncton, Atlantic Canada takes center stage. Host Gabrielle Bejarano welcomes Charles Landry and Ray Girouard to explore the implications of this venture. Bejarano, Landry, and Girouard discuss […]
Read More