How Dr. Daniel Laby of SportsVision NYC Created a Whole Category of Moneyball for Vision
Do athletes have a sixth sense when it comes to anticipating a penalty kick or deciphering whether to swing at an iffy strike zone pitch? Yes and no — it's a mix of stellar hand-eye coordination, past experience that helps athletes anticipate the ball, and training. But not simply athletic training; visual-motor reaction time training.
On this episode of the MarketScale Sports and Entertainment Podcast, host Shelby Skrhak sits down with Dr. Daniel Laby, a board-certified Ophthalmologist and founder of SportsVision NYC, to discuss a very "Moneyball" approach to the role of vision in sports and performance, as well as to break down the Reflexion technology powering neuro-fitness in sports.
"Our eyes are just a camera," Laby said. "Our brain is what takes that image and makes a decision to bring in memory and training to decide whether you're going to make a motor action."
Laby began measuring eye-hand visual-motor reaction time more than 20 years ago when he was completing a fellowship with the LA Dodgers. Over 18 seasons, Laby measured the reaction time of thousands of baseball players and was able to quantify that data into actionable information coaches could use.
Over time, Laby went on to measure athletes' vision in other sports and found correlations between specific sports and its athletes' depth perception, contrast, and perception of light.
"Every sport has a different constellation of vision skills to perform optimally," Laby said. "In baseball, for example, it has to do with how well do you see sharpness of vision and ability to see contrast."
For the latest news, videos, and podcasts in the Software & Electronics Industry, be sure to subscribe to our industry publication.
Follow us on social media for the latest updates in B2B!
Twitter – @TechMKSL
Facebook – facebook.com/marketscale
LinkedIn – linkedin.com/company/marketscale
Latest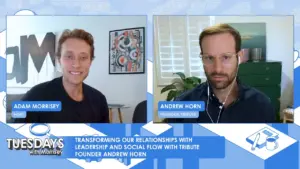 November 28, 2023
Can relationships be transformed through leadership and social flow? Navigating the intricate web of digital relationships can be a tricky proposition. Tuesdays with Morrisey's Adam Morrisey uncovers the transformative impact of emotional recognition in the workplace with Andrew Horn, the mastermind behind Tribute. This podcast edition unravels the story of a platform redefining how […]
Read More