The Fan Connection: The Impact Connectivity Has on the Fan Experience
There's really nothing quite like going to a live sporting event. From football to soccer, baseball to basketball, and every sport that is played in a traditional venue, cheering along with a roaring crowd for a favorite team or player is an experience like no other.
And today's fans want even more – connected to the world with smartphones ready to transmit game plays and game day activities in seconds, fans expect a seamless connectivity experience to support their activities. Even more, today's technology, if properly supported, opens the door for venues to create memorable, interactive experiences for their fans both at home and in the stadium.
"The first thing you really need to think about is when someone comes to one of these events, a concert, a sporting event, that person should really be able to do what they want to do," John Brams, Vice President of Major Accounts at Extreme Networks.
Keeping Fans in Seats Dependent on Venue Evolution
The pandemic changed fan expectations while also giving people a reason to stay home. In addition, technology evolved quickly and every generation became much more tech-savvy in the process. To get people in seats, teams are going to need to find creative and innovative ways to engage with their fans.
"Really putting a focus on the entire fan journey. From the time they leave their door through the event and then by the time that they get home has really been a major focus by the teams and venues that really have a good handle on it and looking to serve their fans and bring them back happy game after game," said Tod Caflisch, Sports Technology Services Consultant at TechFoundry.
To do this, venues need a robust connectivity network whether it is new construction or a venue such as Wrigley Field in Chicago that was built over a hundred years ago in 1914.
This is critical considering sports venues are seeing a 67% growth in data usage year over year. The fan experience needs to continue evolving to keep people engaged and give them a reason to spend the time and money required to attend a game in person. Wi-Fi and connectivity are no longer a nice-to-have commodity, they are an absolute necessity.
Connectivity Essential to Establishing a Fan First Experience
"What we know about human behavior and consumer activity in our venues is that more and more people are becoming dependent on their mobile device for essentially every aspect of the venue experience from a ticketing standpoint, from a food and beverage consumer standpoint, from retail and merch, and from an engagement perspective. Essentially everything in some facet is connected back to a mobile device," said Brian Mirakian, Senior Principal at Populous.
This dependence on mobile devices is not unique to the stadium experience. In fact, according to a poll conducted by reviews.org, 74% feel uneasy without their phone. Additional statistics collected from participants include,
"53% say that they have never gone longer than 24 hours without their cell phone.
47% consider themselves 'addicted' to their phones
61% have texted someone in the same room as them before.
48% of people say they feel a sense of panic or anxiety when their cell phone battery goes below 20%."
Add this to the fact that in 2021, 17.1 million Americans watched NFL games on TV while teams experienced an average attendance rate of 67,254. And the NFL is the most attended sporting event in the U.S. Combine Americans dependance on their phones, the willingness to participate from home, or a local sports bar, or a betting venue, teams will need to ensure the in-person experience is spectacular which is significantly dependent on connectivity.
"Connectivity in sports venues is absolutely critical. Everyone in the venue from coaches, judges, staff, athletes, the media, and especially the guests expect a fast and reliable network connection…Whether this is via wi-fi or a cellular network, consistent connectivity is absolutely crucial. The network infrastructure needs to be both robust and optimized to support the tens of thousands of users in a venue at any given time," said Jessica Janis, Director of Business Development at Corning.
These networks need to be able to support everything going on within the stadium including live streaming, fantasy sports activities, eSports, sports betting, and connecting fans at home with fans in the stands. And whether it is determined that a venue is best supported by wi-fi or antennas to boost connectivity, the key is to ensure a seamless experience that engages and entertains in-person and virtual attendees.
Data Collection and Analysis Identify Fan's Needs, Support Venue Growth
In addition to support a seamless fan experience, network connectivity allows venues to collect data on attendees' activities. Everything from where they are in a stadium, traffic flow patterns, participation in various activities, and engagement with advertisements provide management with invaluable information regarding what is working and what is not.
"Wi-Fi analytics for sports and entertainment events are an opportunity to enhance experiences based on customer preferences and patterns. With this aggregate data, operations teams can gather important insights about the fans and make important adjustments to operational flow to help everything runs smoothly" (San Francisco Business Times).
Collected data such as engagement with advertisements can increase revenue through additional sponsorship opportunities. "It's really nice to be able to go to a sponsor and say, hey, you did something during this event, you did some advertising, you pushed some things out. Let's see how people reacted to that. Or, didn't react to that. Or, are they now using an application that you had suggested to them," explained Brams.
Whatever networks are designed for, it's clear that they need to support fans throughout their journey while being scalable to evolving needs. Now is the time to envision the future and begin building the new stadium experience.
Latest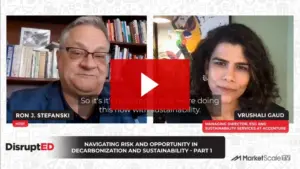 September 26, 2023
The global conversation has shifted dramatically towards decarbonization and sustainability in recent years. With the world experiencing unprecedented levels of disruption, from 5G technology to the challenges of a pandemic, the urgency to address climate change and its implications has never been more palpable. Although most business leaders see the vision of Sustainable Development […]
Read More