U.S. Bank Stadium Is Ready For Superbowl
U.S. Bank Stadium is getting all gussied up for Superbowl LII. The 2 year old stadium that hosts the Minnesota Vikings during the regular season, is undergoing a small, multi-million dollar cosmetic facelift for Sunday's big game.
The crew are currently in the final stages of preparation, and NFL Field Director Ed Mangan said he is confident that he and his crew will be ready on February 4th. "We gotta pull the end zones out because they're Vikings end zones, so we gotta take those out, replace those six panels in each end zone, and the panels at the 50, take those out and replace those with blank ones. And then we repaint everything for the Super Bowl team."
But there are some challenges while getting ready for the game- The Halftime Show rehearsals, for example. WIth the venue in the north, there are no warm places to rehearse, other than in U.S. Bank Stadium, and that means extra field clean up. The crew uses magnets to comb the field for any stray nuts, bolts or random wardrobe pieces that might have popped off, as well as a special stamping tool to make sure there aren't any dangerous soft spots.
"I've been through a lot of stadiums worldwide, but in my book I love this stadium," says George Toma, the groundskeeper for the NFL. "This is the best stadium I've been in. Why? Everything's right here for you. We come out that tunnel, and we're only 100 feet to the playing field for our equipment and for our paint and everything. Not only that, but the people who run this stadium are outstanding, and then some."
Kickoff is set for approx. 6:30 on Sunday, February 4th.
Latest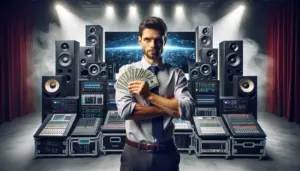 December 8, 2023
Mastering AV sales strategies in a global professional audio-visual (Pro AV) market, poised to reach $79.2 billion by 2028, requires much attention to detail. The surge in demand from corporate, government, and institutional sectors, driven by the need for enhanced productivity and efficient working environments, gives AV sales pros a lot of opportunity. In […]
Read More