What the Cryptocurrency Slump Means for Sports Partnerships
It's no secret that the past few months haven't been kind to the cryptocurrency market. 
On January 1st, 2022, the price for 1 bitcoin was just shy of $48,000. As of July 1st, that price had dropped all the way to $19,000. 
This extended period of turmoil for crypto is turning into a looming cloud over the world of sports, an industry that has formed numerous partnerships with crypto companies over the past several years. One need look no further than the home of the Los Angeles Lakers and Clippers. The building where legends like Kobe Bryant and Shaquille O'Neal made their bones was known as the Staples Center up until November of 2021 when it was renamed the Crypto.com Arena. 
Sports entities the world over, from organizations to leagues and even players, quickly identified cryptocurrency as a new source of revenue. Eager to align themselves with the cool new kid on the block, these groups quickly formed new partnerships with crypto companies in the hopes of finding themselves on the right side of a growing trend. 
But, as this downward momentum in the market has continued, questions have been raised over the ability of some of these companies to fulfill the obligations of their contracts. Cryptocurrency platform Voyager filed for bankruptcy on July 5th, just eight months after signing a partnership agreement with the National Women's Soccer League here in the U.S., one of the largest such deals in the league's history. 
Voyager was also an international partner of the Dallas Mavericks. Speaking of the Mavericks, their owner, Mark Cuban, has been an outspoken proponent of cryptocurrency for some time. Cuban tweeted in early May that quote, "Crypto is going through the lull that the internet went through."  
Cuban and many other experts expect that this lull will eventually result in a more stable market in the future as true contenders separate themselves from the pretenders. 
While the current market volatility likely won't impact the most high-profile partnerships, like Crypto.com's $100m agreement with Formula 1 or Coinbase's exclusive deal with the NBA, there have already been some notable missteps that the sports industry can learn from. 
At the beginning of the 2021 season, the Oakland A's sold one of their luxury boxes – worth in the neighborhood of $64k – to Voyager for the price of 1 bitcoin. The price of bitcoin at the time of the sale was just shy of $60k. It has since fallen to around $20k. 
A small but cautionary tale as the world of sports attempts to navigate the tricky waters of the crypto industry. 
Latest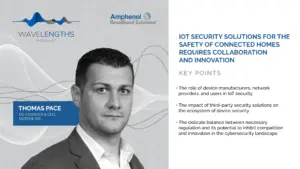 November 28, 2023
Since the introduction of smart devices, the world has increasingly become dominated by interconnected devices but IoT securitydemands are also growing. The "connected home" has shifted from what was once a futuristic concept to reality. With the global smart home market projected to reach $135.3 billion by 2025, the conversation around the security of these […]
Read More