A $3.6 Billion EV Charging Boost Is Still a Missed Opportunity
(Bloomberg) —
The good news for automakers including Tesla, and charging network operators such as EVgo and Electrify America, is that changes to an 18-year-old US program that's driven adoption of ethanol and biodiesel is getting a makeover for the electric-vehicle age.
The Renewable Fuel Standard — a $30 billion a year crediting program — sets the volumes of biofuels that fuel producers need to blend into their products, and has played a major role in the US becoming the largest biofuel producer in the world.
In a proposed update to the standard, electricity generated from biogas would become a credited fuel. BloombergNEF estimates these new electricity-based credits, called eRINs, could be worth $1.6 billion in 2024 and $3.6 billion in 2025.
The bad news for the auto industry is roughly 90% of the funding from this reconfigured standard is likely still headed to fuels that won't help their electrification efforts. It also fall short from a sustainability standpoint, as renewable electricity from sources such as wind and solar are excluded.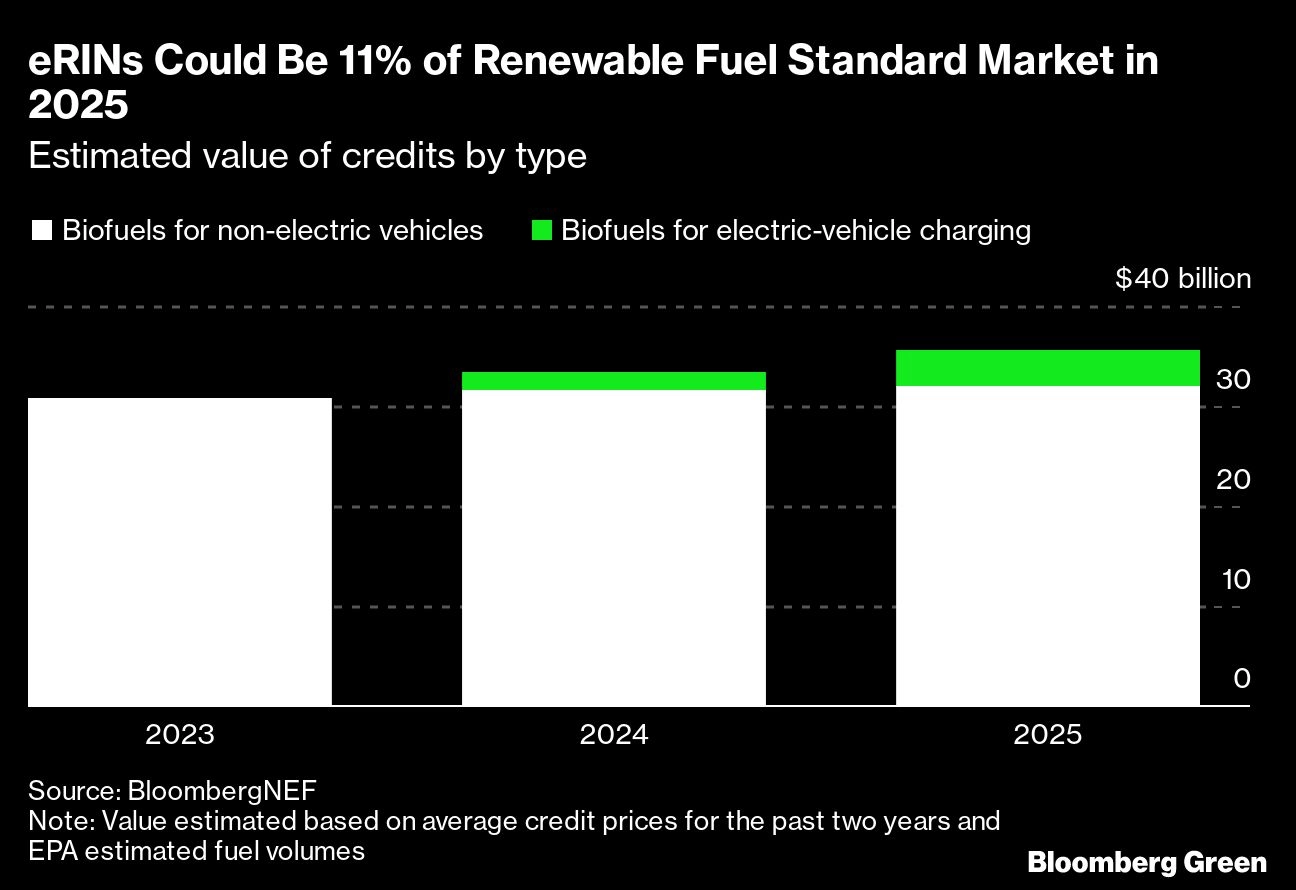 While the $3.6 billion sum BNEF is expecting for 2025 is far from paltry, it pales in comparison to the $32 billion of credits likely to be generated from producing biofuels that will be burned in vehicles still running on combustion engines. And curiously, while a program meant to boost renewable fuels will benefit electricity produced from biogas, it won't boost electricity generated using wind or solar. The US would be an exception in this regard, as other countries treat renewable electricity from these sources as worthy of carbon credits.
The reason this type of electricity is being left out of the Renewable Fuel Standard is that the original legislation, enacted in 2005, narrowly focused on mandating biofuels, and therefore the Environmental Protection Agency has no remit to update. Even if this were contemplated, a major shake-up of the law would be challenging.
Vested interests — ranging from crop-trading giant Archer-Daniels-Midland to ethanol producers including Green Plains — also play a role. The inclusion of renewable electricity would threaten billions of dollars in funding to the biofuel and agricultural sector. These companies have fought to preserve and protect those funds despite biofuels coming under greater scrutiny, due to their effects on food prices and nature.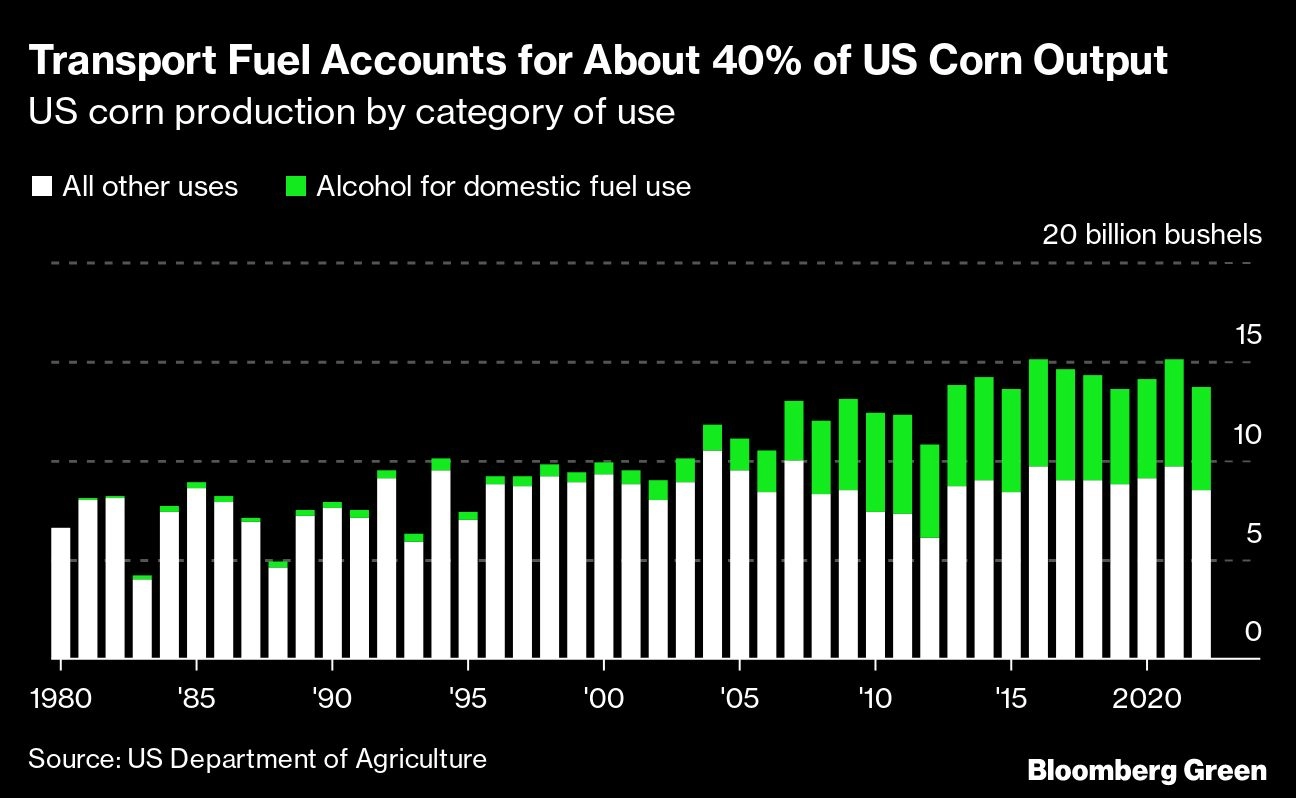 About 40% of the corn grown in the US is burned in cars, according to the US Agriculture Department. The crop takes up 34 million acres of land, an area larger than England or the state of New York. Legislators in Europe want to ween their countries off crop-based biofuels, citing concerns that forests have been cleared to produce them and that their output has contributed to higher food prices.
There are many wrinkles still left to be ironed out before the new US credits start to be awarded next year. For one, medium- and heavy-duty vehicles are excluded from generating eRINs, on the grounds that there's not enough evidence that electric trucks are going to be viable.
The methodology for approving eRINs and deciding who can claim also still needs to be finalized. While it's been proposed that automakers will become potential claimant of credits, it's unclear why this would be the case, as it's rare for these companies to do the contracting of electricity for drivers. This appears to be a political move to appease automakers as legislators push them to build more EVs.
It's clearer why utilities, fleet companies and charging operators would be appropriate claimants of credits. And automakers may be able to make an argument for a share of proceeds by providing data on the actual electricity usage of their vehicles.
This   battle over which industries should lay claim to these funds will continue over the coming months. However it shakes out, the new eRINS feel like a legislative compromise jammed into an existing standard to appease those questioning why the major federal transport fuel-subsidy scheme has had no focus on electrification to date.
Bloomberg Terminal and BNEF clients can read more about eRINs and carbon credit programs  here and here.
(Updated to remove extraneous word from the sixth paragraph.)
More stories like this are available on
bloomberg.com
©2023 Bloomberg L.P.
Latest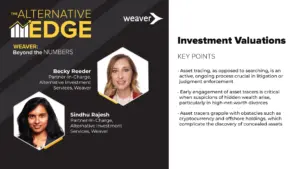 December 4, 2023
In this episode of The Alternative Edge, a Weaver: Beyond the Numbers Podcast, host Becky Reeder, an audit partner and co-leader of the alternative investments practice at Weaver, engages with Sindhu Rajesh, an Alternative Investment Services Partner with Weaver. They unpack the complexities of venture fund valuations, offering critical insights into industry dynamics and best […]
Read More