EAA AirVenture Celebrates the Year of the Fighter
Flight enthusiasts and aviation industry professionals have touched down in Oshkosh, Wisconsin for one of the year's largest annual events.
EAA AirVenture has returned to Oshkosh for the 50th year.
This year the conference will highlight military craft among other planes, including the F-15, F-18, F-22 and F-35. Apollo 11 command module pilot Michael Collins is this year's featured guest, 50 years to the week since the first moon landing.
The show will also include the flight of a plane that flew during the invasion of Normandy, which will have its 75th anniversary honored this week.
Airplanes for days! #osh19 pic.twitter.com/IU2IlS5IMG

— Sarina Larson (@flytruenorth) July 21, 2019
Tweet courtesy of Sarina Houston.
While the planes of the past are recognized this week, EAA AirVenture will also keep an eye towards the future. The Innovation Showcase will provide an inside look at the industry's most exciting breakthroughs from startups and historic leaders alike.
A complete list of the 21 companies that will present new products at the Innovation Showcase can be found here.
Airshows, speeches, exhibits and more will make the 50th EAA AirVenture in Oshkosh another extensive look at where the aviation industry is going. Stay tuned to MarketScale for more updates as the week takes off.
For the latest news and thought leadership on all things transportation, head to our industry page! Be sure to follow us on Twitter at @TransportMKSL
Photos courtesy of Collin Brault, EAA
Latest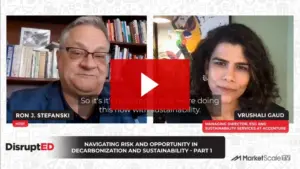 September 26, 2023
The global conversation has shifted dramatically towards decarbonization and sustainability in recent years. With the world experiencing unprecedented levels of disruption, from 5G technology to the challenges of a pandemic, the urgency to address climate change and its implications has never been more palpable. Although most business leaders see the vision of Sustainable Development […]
Read More