Exploring FEAM Aero's Expansion at CVG
In the world of aviation, time never stands still. It's an industry that demands constant readiness, with the right skill set, tools, opportunities, people, training, and location all coming together seamlessly. Martin Fryer, the CVG General Manager for FEAM Aero, understands this reality all too well. As he steps into work each morning, the focus is not on the past, but on the present and the future. What sets CVG apart is the potential for individuals to build their entire 30-year careers at this remarkable location. The team dynamic at CVG is nothing short of exceptional, with a shared commitment to aligning their goals with those of the customer, the airlines, and the company.
Martin Fryer transformed the operation from handling a modest 700 flights per month to now soaring over 2,100 flights. The bursting hangar will soon be complemented by a state-of-the-art facility, meeting growing demands. A staggering $40 million investment, cutting-edge tooling, and $20 million worth of materials exemplify the industry's commitment to progress.
Martin Fryer, donning his bump cap, proudly showcases the dynamic construction site. Steel structures assembled in under a week attest to the team's efficiency.
Capturing weekly photos, Martin Fryer excites Miami executives with tangible proof of project advancement. The absence of workers on weekends signals progress on track for the February completion target.
The forthcoming hangar at CVG embodies FEAM Aero's unwavering commitment to growth and excellence. Observers feel the anticipation as the facility takes shape, representing CVG's innovative and professional future. A beacon in the aviation industry, it solidifies CVG's position as a symbol of success.
Latest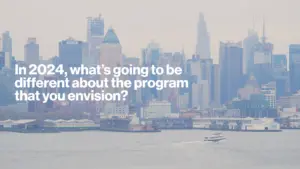 December 1, 2023
In the dynamic telecommunications landscape, Verizon's Partner Network continues to evolve, adapting to new trends and opportunities. For another segment featuring Mark Tina, VP of Indirect Channel Distribution and Channel Chief at Verizon Business Group, he explores exactly what types of significant changes and advancements the Verizon Partner Network will see in 2024. In this […]
Read More