Genesys Aerosystem's Modernized Avionics Suite on Black Hawks Now Certified
Mineral Wells, TX (October 21, 2020) –– Genesys Aerosystems and XP Services announce FAA Supplemental Type Certification (STC) approval of the Genesys modernized avionics suite for the UH-60A and EH-60A Black Hawk.
While available as a complete avionics suite upgrade, the avionics building block design provides Black Hawk operators the flexibility of an incremental upgrade path to support constrained budgets and installation timeframes. The suite upgrade replaces legacy gyros, which are prone to failure and costly to repair, with solid-state, light-weight, digital Attitude/Heading Reference System.
"We are thrilled to bring an industry-leading cockpit upgrade to the Black Hawk that operators can finally afford." Said Nick Bogner, Director of Business Development at Genesys Aerosystems, "Today, features like advanced synthetic vision and high reliability are standard requirements for an avionics upgrade program – the problem is accessibility – the upgrade costs have not been in reach until now. On top of that, Genesys offers the only retrofit IFR autopilot and digital attitude source to replace the obsolete and failure-prone legacy gyros; this package is truly remarkable."
For operators seeking a full, modern EFIS upgrade, the four large format, NVG-compatible, MIL-STD IDU-680 smart displays replace all standard analog gauges. Each IDU-680 features synthetic vision, built-in FMS (Flight Management System) for both navigation and communication radios, HTAWS (Helicopter Terrain Awareness and Warning System), geo-referenced hover vector, and an elegant interface to special mission systems using Genesys' patent-pending OASIS (Open Architecture System Integration Symbology) toolset. The dual GPS/SBAS navigation system supports all NexGen procedures, including the new PinS (Point in Space) helicopter approaches, USCG search and rescue patterns, and user-defined precision approaches.  All engine instruments and master caution lights are replaced with quadruple redundant EICAS (Engine Indication and Crew Alerting System) display pages. Coupled to the avionics suite is a fully digital 3-axis IFR certified autopilot for ultimate safety and pilot workload reduction.
The suite also comprises of the new Genesys Digital Radio (GDR). The GDR features combined VOR, localizer, glideslope, and marker beacon navigation. For VHF communication, the radio has a frequency range of 118 to 136 MHz or optional 118 to 156 MHz. The GDR is a global radio solution with the ability for either 25 or 8.33 kHz channelization and a transmit power of either 16 or 25 watts. Lastly, for special mission and military operators, the GDR has embedded UHF 225 to 400 MHz communication available as an option.
The fully integrated system offers dramatic reductions in cost, weight, maintenance, and pilot workload, while remaining uniquely customizable for special mission applications as the portrait displays form a clean panel layout for an extra-large mission display.
"Building and customizing avionics pages using OASIS without compromising the TSO integrity is a game-changer for customers and a key feature that drew us to work with Genesys," said Rod Allison, President of XP Services. "The ability for UH-60A and UH-60L Black Hawk operators to replace their legacy gyro-based avionics with a more advanced and reliable ADAHRS at a cost more in line with repairing a failure-prone gyro is significant."
Contact Genesys Aerosystems or XP Services for pricing and availability. For more information, visit xpservices.us or genesys-aerosystems.com.
About Genesys Aerosystems
Genesys Aerosystems is a leading provider of integrated avionics systems for military and civil customers. Genesys Aerosystems' avionics systems include synthetic vision with three dimensional highway-in-the-sky navigation, integrated flight management and hazard alerting, and ultra-compact, highly ruggedized sensors that provide ultimate customer benefits of increased safety, improved dispatch rates, mission flexibility, and seamless future growth. Approved for all classes of aircraft, the company's uniquely customizable open-architecture systems dramatically reduce integration costs and schedules for both OEM and retrofit applications. Genesys Aerosystems' Helicopter Stability Augmentation System and Autopilot (HeliSAS) adds to its extensive range of S-TEC autopilot solutions and brings added safety within the reach of a host of operators for whom such systems were previously too expensive or heavy. For more information, visit: genesys-aerosystems.com/.
About XP Services
XP Services, headquartered in Tullahoma, Tennessee, is a developmental flight test organization specialized in aircraft modification, certification and airworthiness qualification testing. Comprised of the most experienced and select professionals from US military and OEM test organizations, XP Services is committed to the development of next generation aviators and aviation technologies. With over a century of combined aviation experience and extensive knowledge of military and civilian flight operations, the XP Services team is perfectly equipped to provide efficient solutions to support its clients' goals and missions. For more information on XP Services, please visit xpservices.us.
Latest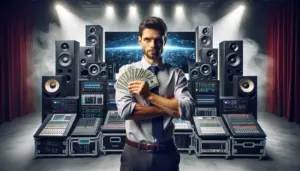 December 8, 2023
Mastering AV sales strategies in a global professional audio-visual (Pro AV) market, poised to reach $79.2 billion by 2028, requires much attention to detail. The surge in demand from corporate, government, and institutional sectors, driven by the need for enhanced productivity and efficient working environments, gives AV sales pros a lot of opportunity. In […]
Read More