Creating Inclusive and Sustainable Cities Post-COVID-19 with Micro-Mobility
COVID-19 has shed a new and, at time, critical light on cities, particularly in terms of their viability, safety, population density and more.
However, over half of the world's population lives in cities, and that number is expected to reach 70% or more by 2050. In other words, cities aren't going away.
Micro-mobility devices and solutions, then, have an important role to play in answering key questions and ensuring that cities, even in the context of a global pandemic and what lies ahead, remain inclusive.
Balancing Regulations, Pain Points and More with Inclusivity and Availability
Most cities have a laundry list of traffic pain points and street congestion issues, and these will only be exacerbated by the continued growth of city populations around the globe.
As the world begins to reopen and recover from the effects of COVID-19, cities and communities face a new challenge in finding ways to maintain an inclusive environment under government restrictions and other regulations.
In particular, this means navigating reduced hours for public transportation, fewer buses, reduced train slots and more. Social distancing will also play an enormous role in the immediate post-COVID-19 future, and public transportation often struggles to accommodate this strategy.
How Micro-Mobility Can Help Cities Become More Inclusive
Micro-mobility might be the premier answer to these concerns.
By offering available and affordable mobility solutions that can also leverage social distancing and promote health and safety, micro-mobility solutions have an important role to play in providing transportation options for urban citizens across the globe.
These solutions, particularly in the case of e-scooters, can also contribute to greener cities and a collective journey toward a greener future. Micro-mobility vehicles will also improve the energy efficiency of vehicle technology. In fact, research in China has shown that electric mopeds in China emit only a third of the CO2 and PM2.5 that motorcycles do and emit almost no hydrocarbons. They outperform even diesel buses, despite the large share of coal in China's energy mix.
Micro-mobility also shifts vehicles' ownership. Public transportation solutions and shared mobility are more efficient – the OECD estimates that private vehicles are, on average, parked for more than 90% of the time and that, in the case of Lisbon, just 10% of the current vehicle fleet could provide the same level of mobility if shared.
In addition to mobility and accessibility benefits, shifting from individual to shared mobility can improve the overall quality of life in cities by reducing the overall number of vehicles.
Micro-mobility also benefits cities and urban inhabitants in the following ways:
Door-to-door trips and trips with several stops: Micro-mobility serves as an important complement to public transit in cities with low public transport coverage and for trips that would otherwise require many transfers. In France, 22% of scooter sharing users do so because of their ability to make door-to-door trips.[1]
Additional capacity when public transport has reached its limit: In cities where public transport is already running at its maximum capacity, micro-mobility can complement it by adding transport capacity, particularly during rush hour.
Filling the Gap of Limited Resources with Micro-mobility
In the post-COVID-19 world, at least for the immediate period of reopening and resurgence, public transportation is still likely to operate at lower levels and to come with a significant lack of consumer trust and confidence.
Micro-mobility is poised to fill the gap left behind, providing a simple, safe and inclusive option for urban citizens to engage in mobility and in the return to normal in the wake of the pandemic.
To learn more about how Segway Commercial is powering that capability, visit https://b2b.segway.com/.
Follow us on social media for the latest updates in B2B!
Twitter – @MarketScale
Facebook – facebook.com/marketscale
LinkedIn – linkedin.com/company/marketscale
Latest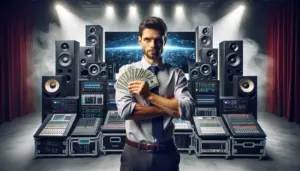 December 8, 2023
Mastering AV sales strategies in a global professional audio-visual (Pro AV) market, poised to reach $79.2 billion by 2028, requires much attention to detail. The surge in demand from corporate, government, and institutional sectors, driven by the need for enhanced productivity and efficient working environments, gives AV sales pros a lot of opportunity. In […]
Read More