Insights into Equipment Protection
Shipping, on the surface, seems like a straightforward task. However, it's a task that comes with complex issues to consider, especially when it comes to fragile or expensive equipment.
You don't want to trust your high-value items to just any method of shipping. Your main concern will always be protection. With that in mind, there are a few key factors to keep in mind when determining how to transport something of value.
As equipment can be quite heavy, weight causes special concerns in protecting it through the transit process. In cases such as these, the use of forklifts or ramps is likely, and this increases the possibility of damage. It's important to have only the most skilled operators of these machines doing the lifting, to ensure the item's proper handling.
Using the right shipping company is paramount in product safety as well. Be prepared to ask questions about accountability, product knowledge, and monitoring procedures. Using a shipping professional whose experience is generic is risky; it's a smart move to do your research and hire a company with specialized knowledge in the type of equipment you need transported.
And of course, packaging is a main concern in protecting your goods. As some items are sensitive to vibrations, for example, and others require exact temperatures, new innovations in packaging are critical to keeping up with the diverse needs of new technology and machinery. Also, considerations of road issues, such as steep inclines or potholes, must be factored into the way we package our high-value pieces. The old standards of wood and metal are being replaced with other options, and in fact, new materials are continually being developed to speak to the unique needs of the items needing protection.
At Transhield, we know how important it is that all your valuables be treated with care. From boats and automobiles to planes and heavy machinery, we have the protective solutions you need. We custom-make an overlay of durable material and shrink it to fit your equipment.
We don't merely wrap up your valuables. We envelop them with a lightweight and breathable, but extremely strong fabric that reduces your maintenance needs, saves you money over the long haul, and most importantly, protects equipment during storage or transit. Our covers guard items from all the environmental hazards by providing an individualized shelter. We want your important cargo to arrive undamaged and ready to use.
To learn more about Transhield and our customized cover options, visit us online today!
Read more at transhield-usa.co
Latest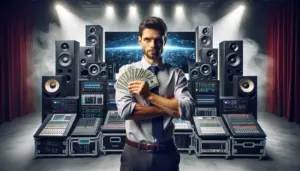 December 8, 2023
Mastering AV sales strategies in a global professional audio-visual (Pro AV) market, poised to reach $79.2 billion by 2028, requires much attention to detail. The surge in demand from corporate, government, and institutional sectors, driven by the need for enhanced productivity and efficient working environments, gives AV sales pros a lot of opportunity. In […]
Read More