Is More Smart Tech the Answer to Public Transportation's Growing Pains?
On this special episode of MarketScale TV from the MarketScale Tradeshow Booth, Voice of B2B Daniel Litwin talked with Paul Doherty, President & CEO, The Digit Group, a smart city solution provider, giving solutions on everything from master planning and architectural design services to real-world implementations of blockchain and IoT solutions.
Litwin and Doherty did a mid-year smart city check-in to see how the pandemic and the last six months have introduced some new opportunities, as well as some challenges for the broader push toward smart cities. In this robust analysis, the duo dug into the Biden Administration's $1 trillion infrastructure plan to boost America's lagging grid. This money would go toward bridges and roads, expanding broadband access, and public transit over the course of eight years.
But, it's still hard to see if the package will invest money in smart cities or that is another group of investments.
"When we get into the geopolitics of how this is positioned for messaging, we have to appeal to a huge component of this which is the localized generation of jobs. And, here's the problem: as a global industry, we do not have enough workers." – Paul Doherty
Doherty likened the issue to electric vehicles, saying that if most people shifted to electric vehicles, the U.S. power grid could not handle it. It is the same thing with this bill. If a lot of investment goes into building new infrastructure, we would have to rely on robotics.
He also noted that some of the infrastructure investment would have to focus on smart buildings that diffuse air, which will help during the next pandemic. Listen to hear more about Doherty's thoughts on the potential infrastructure package and the mid-year smart city update.
Follow us on social media for the latest updates in B2B!
Twitter – @MarketScale
Facebook – facebook.com/marketscale
LinkedIn – linkedin.com/company/marketscale
Latest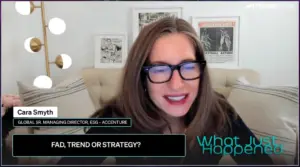 November 30, 2023
The world is in an era where sustainability and responsible retail business practices are increasingly crucial. For the latest episode of "What Just Happened," host Christine Russo further explored the hows and whys of this pressing issue by interviewing Cara Smyth, Global Senior Managing Director for ESG and Responsible Retail at Accenture, and Chair […]
Read More