Seattle Light Rail Set To Move Forward, Despite Funding Concerns
Seattle is about to enter the assessment and early development phases of their proposed Central Puget Sound Regional Transit Authority light rail project. The $6.7 billion build will connect Seattle with its western suburbs.
For the next year, the agency will solicit public commentary on the West Seattle link extension, the 7.1-mile Ballard link extension, and the 3.3-mile downtown Seattle Light Rail Tunnel. According to Engineering News-Record, analysis will be conducted to finalize routes and station locations.
Though the plan is on track to move forward, recent funding issues and budget inflations have caused some setbacks. The Lynwood extension is in limbo with regard to more than $1 billion in funding as they await the review results of Federal funding promised by the Obama administration. The project has already received $100 million toward the total.
"We're hitting 'go' on a massive capital investment program that will give our citizens a real way out of ever worsening congestion. Federal funding will continue to be a critically important contributor to our success," says Peter Rogoff, Sound Transit Chief executive officer. "This first grant installment for Lynnwood Link will help us finally deliver light rail to Snohomish County and get thousands of daily riders off of the traffic on [Interstate-5]."[1]
[1] http://www.progressiverailroading.com/passenger_rail/news/Sound-Transit-nets-100-million-in-federal-funds-for-light-rail-extension–51555
Latest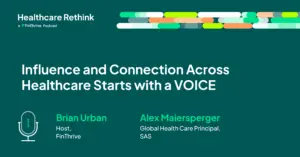 September 29, 2023
In the latest episode of the Healthcare Rethink podcast, presented by FinThrive, host Brian Urban sits down with Alex Maiersperger, the Global Principal Healthcare at SAS. Their conversation charts the role voice plays in influencing and connecting the healthcare industry. Maiersperger, who co-founded the Advancement League, shares his journey from being a healthcare optimist to […]
Read More