SEC Proposes Climate-Related Company Data is Measured, Reported, and Mandated
Key Insights:
The SEC proposes an update to financial reporting standards for the energy and transportation industry.
Companies need to take inventory of where they are and where they want to go.
Collaboration is key – it's not just one company impacted, it's the entire supply chain.
In March 2022, the Securities and Exchange Commission (SEC) made a major proposal that would affect the financial reporting standards of the energy and transportation industry. "The SEC has proposed that companies be responsible for measuring and reporting their emissions on a regular basis – similar to their quarterly report or annual report," explained Lynn Lyon, Director of Business Development, U.S. Gain.
This is a significant step for the SEC and is potentially the most disruptive act in 20 years. It's a truly transformative, future-forward proposal requiring companies to report "information about climate-related risks that are reasonably likely to have a material impact on their business, results of operations, or financial condition, and certain climate-related financial statement metrics in a note to their audited financial statements" (SEC). The rule would also apply to foreign companies that are publicly traded within the US.
Lyon noted that this is both an exciting and scary time for the industry. "On a personal level, I find it a positive step for us that we are looking towards the future and how what we do financially impacts the environment." The proposal allows companies to put a plan in place for the future while taking a pragmatic view of what is possible. Some companies are already doing this voluntarily giving them a potential leg up on those who will need to catch up.
Speaking about industry responsibilities, Lyon believes that companies need to take an "inventory of what we currently have, where our emissions are coming from, how do we baseline it because you have to baseline it to find the basis for improvements." When this is done, it's time to figure out what companies are willing to do to change.
As climate-related issues continue to make headlines, companies are increasingly under pressure to decrease emissions and reduce environmental footprints. "The proposal is aimed at requiring companies to disclose how they integrate climate risks and opportunities into their governance and corporate strategy along with a significant amount of related qualitative and quantitative information.
Latest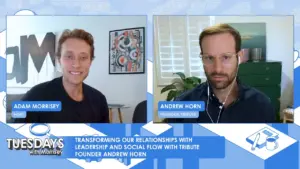 November 28, 2023
Can relationships be transformed through leadership and social flow? Navigating the intricate web of digital relationships can be a tricky proposition. Tuesdays with Morrisey's Adam Morrisey uncovers the transformative impact of emotional recognition in the workplace with Andrew Horn, the mastermind behind Tribute. This podcast edition unravels the story of a platform redefining how […]
Read More