Textron's Bell and United States Military Make A Move Toward the Future
Textron's Bell emerges victorious. The United States Army recently awarded its largest helicopter procurement decision in four decades recently.
Textron's Bell was the winner of the military's competition to build the Future Long-Range Assault Aircraft (FLRAA).
The deal is for $1.3BN and the new vehicles will replace close to 2,000 Black Hawk helicopters currently in service.
Martin Peryea, CEO of Jaunt Air Mobility, spoke to the significance of the award and what it means for the Army going forward.
Martin's Thoughts:
"Congratulations. The bell flight on the Army's selection of the V-280 tiltrotor for the Army's future long range of the SALT program, all part of the Army's Future Vertical Lift program. This is a big win for Bell as the production of the V-22 and H1 programs winds down. The Army's selection of the V-280 is a validation that speed and range are important to the army, which the Black Hawks cannot provide.
An interesting note is that the army in NASA funded the early development of Tiltrotor technology. The XB-15 was her precursor of the development of the V-22. The army's selection of the V-280 will allow the army to change how they engage in future combat missions. Like the change, the Marines win through with the Bell V-22.
Again, congratulations to the Bell on a major win for the development of the next-generation tiltrotor aircraft."
Latest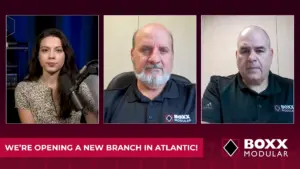 December 4, 2023
In an era where construction innovation is reshaping the industry, modular construction's growth continues to rise. In this episode of Built Modular, Boxx Modular's strategic expansion into Moncton, Atlantic Canada takes center stage. Host Gabrielle Bejarano welcomes Charles Landry and Ray Girouard to explore the implications of this venture. Bejarano, Landry, and Girouard discuss […]
Read More