The Indy Autonomous Challenge is Pushing the Boundaries of Driverless Vehicles
The Indy Autonomous Challenge was live at the Texas Motor Speedway on November 11, 2022, showcasing the latest and greatest in autonomous driving technology on the racetrack. While autonomous vehicles are still facing many roadblocks to mass adoption, including regulatory challenges and needing to validate the technology in more strenuous situations, the IAC is acting as a hot bed of innovation and trialing of autonomous technologies for better responsiveness in some of the most real-time scenarios possible: high-stakes, high-speed racing.
The Indy Autonomous Challenge (IAC) organizes racing competitions among university affiliated teams from around the world to program fully autonomous race cars and compete in a series of history-making events at iconic tracks. Based in Indiana, the IAC is working to establish a hub for performance automation in the state and is harnessing the power of innovative competitions to attract the best and the brightest minds from around the globe to further state-of-the-art technology in safety and performance of automated vehicles. This year, IAC is sponsored by a variety of top-tier companies including Cisco, Luminar, Cariad, AWS, Bridgestone, Continental, and more.
Paul Mitchell, president of the IAC, spoke to MarketScale about the latest developments and shared some insights on just how fast these cars really are.
Paul's Thoughts:
"Each of our competitions get progressively harder in terms of the rule set. Our first competition, it was just single-car laps. Then, in Las Vegas, we introduced head-to-head passing. And this race here at Texas Motor Speedway is even more aggressive passing. We allow teams to have a little bit more aggressive race lines.
They're not quite blocking each other, but it looks more like head-to-head racing that you would see in Indy car or Formula One-type competition. Cars are the fastest autonomous vehicles in the world. We've set the land speed record at 192.2 miles per hour. In terms of on-track performance, we've seen speeds as high as 173 miles per hour.
So these are fast formula race cars.
We have really three goals for Indy Autonomous Challenge. One is to advance the technology on the vehicles. So we will be adding new sensors to the car, adding new sponsors that are coming in. We have a company dSpace that's providing the central computer, Continental's coming on with their radar technology.
Luminar is gonna be providing their next gen LIDAR technology. We continue to work with Cisco on the communication technology to constantly upgrade that. One is you can just expect that the cars will get more advanced technology. And then the other big thing we're looking at is beginning to transition from just running on ovals, which is what we've done so far to also looking at road courses.
And that brings a whole, another set of challenges is cars are having to navigate a road course, which is maybe a little more similar to what you would find on highway driving or driving on the streets."
One of the major brands attached to the Indy Autonomous Challenge is Cisco, a company that is synonymous with innovation and ground-breaking technology. Wes Sylvester, WW Vice President for the Industry Solutions Group at Cisco, spoke to MarketScale about why it makes sense for Cisco to be a large sponsor of this event.
Wes's Thoughts:
"We're here at the Indy Autonomous Challenge. Cisco is a huge sponsor of this event for a couple of reasons. The first is the technology. We love being able to test our technology to the extremes, so taking technology that will do handoffs in traditional roadways and bringing it to 200 miles an hour and making sure it works is amazing.
It's great to see the innovation from the education side of things, letting innovation happen with our PhD students that we're working with through the program. And finally, the most important thing for me is the applicability of this technology to other industries. And yes, we hope to see this technology and are seeing this technology deployed on roadways and in transportation, but also high-speed rail and mining and manufacturing.
We wanna be able to use it to keep people safe, keep people out of dangerous situations reduce the risk. And still have full autonomy and safety happening. So autonomous mining vehicles are happening today. We're a big part of that. Pick and pack robots and warehouses. It doesn't sound too exciting, but it makes it a lot more efficient for you and I to get everything that's coming out of the supply chain that we've had so much problems with.
Autonomy can help with that. The backups at the ports, autonomy can help with that. We can help decide which containers should go where and how and make it more efficient, which means we all get our goods and service. And we all know the challenge that's created recently, and so the technology is just amazing and it's got applicability across so many industries.
We're just so excited to be a part of it."
Latest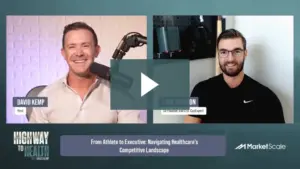 September 28, 2023
Navigating healthcare's competitive landscape requires innovative solutions addressing care quality and affordability. CapExpert is a game-changer in outpatient healthcare. It enhances asset management, ensuring the best care for patients. Luke Johnson, Co-Founder and CEO of CapExpert, spoke with Highway to Health's David Kemp on how CapExpert enhances asset management, bridging visibility gaps and streamlining […]
Read More