Virgin Unveils Full-scale Pod Model for Hyperloop Transportation
A trip from Dubai to Abu Dhabi takes two hours by car. With the Hyperloop, that trip can take as little as twelve minutes. Unveiled for the first time this week, a full-scale model of a hyperloop pod was presented to the public.
Designed with futuristic luxury elements, the pod can hold five to fourteen passengers, and once fully functional, the system could transport 10,000 people per hour between each city. The beige and cream seats of the Hyperloop One model were designed by German car firm BMW, and each seat will be equipped with its own interactive entertainment screen.
"A Hyperloop network that runs from Jeddah to Riyadh, to Abu Dhabi to Dubai as a backbone from the Red Sea to the Arabian sea is an amazing opportunity and would transform the potential movement of goods and the mobility of people and have a dramatic impact on the economic development and continued growth in the region," said CEO of Virgin Hyperloop, Rob Lloyd.[1]
Dubai's Hyperloop system is expected to debut as early as 2020.
[1] https://www.thenational.ae/uae/transport/dubai-to-abu-dhabi-commute-in-15-minutes-time-to-believe-the-hype-1.707188#2
Latest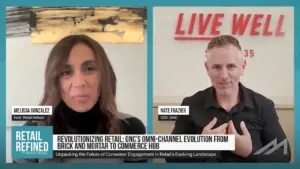 November 29, 2023
The transformation from a traditional brick-and-mortar store to an integrated commerce hub is crucial in the fast-evolving retail landscape. GNC's omni-channel evolution epitomizes this shift, blending in-person and digital experiences to meet the contemporary consumer's demands. But what does this mean for the future of retail? "Retail Refined," hosted by Melissa Gonzalez, welcomes Nate […]
Read More