Watch: Boeing Teams Up With Assembrix Ltd. for Cloud-based 3D Printing
The U.S. Defense will now use Assembrix software to securely manage and share 3-D printing data with clients during the design and manufacturing phases of production. The virtual industrial 3-D printing allows clients to allocate space in industrial size 3-D printers to produce products in real-time.
The program protects customer's data from being intercepted, corrupted or decrypted throughout the process. "We are pleased to partner with Boeing and value its confidence in us and in our capabilities," said Lior Polak, Assembrix CEO. Boeing has 3-D printing capabilities at 20 locations worldwide. The software will increase productivity and aid the company to augment their growth.
Latest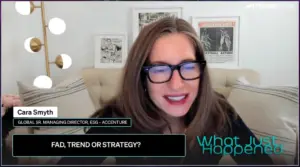 November 30, 2023
The world is in an era where sustainability and responsible retail business practices are increasingly crucial. For the latest episode of "What Just Happened," host Christine Russo further explored the hows and whys of this pressing issue by interviewing Cara Smyth, Global Senior Managing Director for ESG and Responsible Retail at Accenture, and Chair […]
Read More