Changing Surveying by Taking Lidar Further
On "Track. Map. Measure.," host Shaun MacIntosh is constructing a show with a host of thought-leaders from the industry that quite literally builds the world around us – construction. 
Land surveying has advanced dramatically in recent years as new tech allows for greater accuracy. Today, there are many different devices used to map, all with their own pros and cons to gathering accurate data. On the inaugural episode of Track.Map.Measure, host Shaun MacIntosh welcomes Matt Gendron, Senior Account Executive at Propeller Aero, to discuss the various mapping apparatus and how they can work together.
Lidar, photogrammetry, drone mapping, rover, or just old-fashioned on the ground mapping; there is more than one way to collect land data. MacIntosh elaborates on Lidar, light detection and ranging, and where it excels. Found in Tesla cars and perfect for indoor mapping, Lidar still has a long way to go to be consumer-friendly, but its accuracy is unparalleled. Gendron dives into drone photogrammetry, that is, camera-based surveys. Gendron said he still sees photogrammetry used 95% of the time on-site, due in part to its ease of use, affordability, and approachable learning curve. But perhaps most important in surveying is knowing which tool will best suit your purpose, be it surveying a highly-vegetated site, or an interior warehouse.
Gendron and MacIntosh break down use case scenarios and why you can never have enough data on Track.Map.Measure.
Stay Tuned For New Episodes Every Other Wednesday!

Latest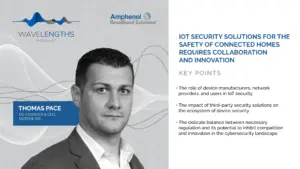 November 28, 2023
Since the introduction of smart devices, the world has increasingly become dominated by interconnected devices but IoT securitydemands are also growing. The "connected home" has shifted from what was once a futuristic concept to reality. With the global smart home market projected to reach $135.3 billion by 2025, the conversation around the security of these […]
Read More