Change Starts Here: Together Is Better
The COVID-19 pandemic has highlighted the importance of community and togetherness in a world where being alone and isolated has become the norm. In the latest episode of the Change Starts Here podcast, host Dustin Odham shares his experiences of attending symposiums in different cities across the USA and how they made him appreciate the value of being in the presence of others.
Dustin talks about how, while being alone has its advantages, engaging with others and being part of a community is crucial for personal growth and wellbeing. He discusses his travels to symposiums in Tampa, Las Vegas, Dallas, and San Diego, and how the different groups he worked with made him feel incredibly welcomed and energized.
According to Dustin, "We need to be in community. We are created to be in community." He shares his insights on the group dynamic and the importance of togetherness in making everything work seamlessly. In addition, Dustin talks about his experiences working with students and seeing them overcome stage fright, which left him in awe.
The latest episode of Change Starts Here is a must-listen for anyone seeking inspiration and ideas on how to navigate a post-COVID world. It reminds us of the importance of being
connected and working together to create a better future for all.
Latest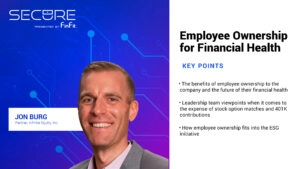 June 8, 2023
Dallas, TX – The newest podcast episode of SECURE by FinFit explores the rising trend of employee stock ownership plans (ESOPs) and how they impact employee behavior and financial resiliency. According to Gallup, 58% of Americans owned some form of stocks in 2022, but only around 4% of the U.S. population participate in ESOPs. However, […]
Read More