Star Tribune Names IC System a 2023 Top 200 Workplace
St. Paul, MN, June 19, 2023—IC System has been named one of the Top 200 Workplaces in Minnesota by the Star Tribune. The 2023 distinction marks the seventh straight year IC System has been a Top Workplace.
A complete list of those selected is available at startribune.com and published in the Star Tribune Top Workplaces special section on Sunday, June 18.
"We work hard to ensure that our employees feel engaged by IC System," said John Erickson, Jr., President and CEO of IC System. "For us, this recognition confirms that the more than 400 people who have made IC System their career feel heard and fulfilled by their job. That's the most important part of this honor."
To qualify for the Star Tribune Top Workplaces, a company must have more than 50 employees in Minnesota. Over 5,000 companies received participation invites. Rankings were composite scores calculated purely based on employee responses.
Produced by the same team that compiles the 32-year-old Star Tribune 100 report of the best-performing public companies in Minnesota, Top Workplaces recognizes the most progressive companies in Minnesota based on employee opinions measuring engagement, organizational health, and satisfaction. The analysis included responses from 124,719 Minnesota public, private, and nonprofit employees.
IC System was ranked 29 on the midsize company list. Survey information collected by Energage, an independent company specializing in employee engagement and retention, serves as the basis for the Star Tribune Top 200 Workplaces rankings.
Star Tribune CEO and Publisher Steve Grove said, "The companies in the Star Tribune Top 200 Workplaces deserve high praise for creating the very best work environments in the state of Minnesota. My congratulations to each of these exceptional companies."
About IC System
IC System is one of the largest receivables management companies in the United States. Founded in 1938, IC System is a privately held accounts receivable management firm in its third generation of family ownership. IC System provides customized, tailor-made debt recovery solutions for healthcare, dental, small businesses, government, utilities, and telecommunications industries nationwide. Follow IC System on Twitter or LinkedIn.
Latest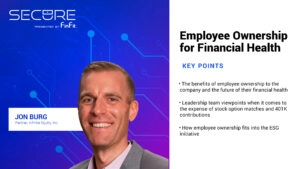 June 8, 2023
Dallas, TX – The newest podcast episode of SECURE by FinFit explores the rising trend of employee stock ownership plans (ESOPs) and how they impact employee behavior and financial resiliency. According to Gallup, 58% of Americans owned some form of stocks in 2022, but only around 4% of the U.S. population participate in ESOPs. However, […]
Read More