New York Times Best-Selling Author Brad Montague Discusses Spreading Kindness in Latest Change Starts Here Podcast Appearance
New York, NY – In a world where acts of kindness seem to be fading away, New York Times best-selling author and illustrator Brad Montague is on a mission to promote kindness and imagination. Montague recently appeared on the Change Starts Here podcast with host Dustin Odham to discuss his books and a new project about spreading kindness.
During the podcast, Montague said, "We are all humans that want to be loved, and when you approach life from that place, you see yourself and others in that way, and it helps you to be bold and also gentle, and that leads to seeing every person as someone who needs some care."
Brad Montague is a writer, director, and illustrator whose work has received over 900 million views and has been translated into numerous languages. He is the co-creator of Kid President, an internet sensation featured on Soulpancake's YouTube channel, and the driving force behind 'Socktober,' a worldwide annual drive that connects people with local homeless shelters. He is also the creator of 'Wondersparks,' a free classroom resource that fosters empathy and imagination.
The Change Starts Here podcast, hosted by Dustin Odham, is a platform for thought leaders to discuss important issues and inspire change. Odham is the thought leader for FranklinCovey Education, a company that provides leadership development and training for individuals and organizations.
For more information on Brad Montague and his work, visit http://montagueworkshop.com/. To listen to the full podcast episode with Dustin Odham, visit changestartsherepodcast.
About FranklinCovey Education:
FranklinCovey Education provides leadership development and training to K-12 schools, colleges, and universities, as well as businesses and government organizations. Their solutions are based on the principles of The 7 Habits of Highly Effective People and other leadership and productivity frameworks.
About Brad Montague:
Brad Montague is a New York Times best-selling author, illustrator, and creator of Kid President, 'Socktober,' and 'Wondersparks.' His work promotes kindness, empathy, and imagination and has received global attention for its positive impact.
Disclaimer:
The information provided on this website is for general informational purposes only. While we make every effort to ensure that the information provided is accurate and up-to-date, we make no representations or warranties of any kind, express or implied, about the completeness, accuracy, reliability, suitability, or availability of the website or the information, products, services, or related graphics contained on the website for any purpose.
This press release was generated with AI. Therefore, any reliance on such information is strictly at your own risk. In no event will we be liable for any loss or damage, including, without limitation, indirect or consequential loss or damage or any loss or damage arising from loss of data or profits arising out of, or in connection with, the use of this website.
Latest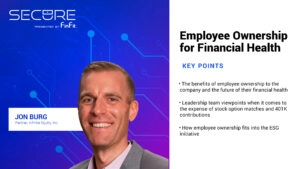 June 8, 2023
Dallas, TX – The newest podcast episode of SECURE by FinFit explores the rising trend of employee stock ownership plans (ESOPs) and how they impact employee behavior and financial resiliency. According to Gallup, 58% of Americans owned some form of stocks in 2022, but only around 4% of the U.S. population participate in ESOPs. However, […]
Read More