Paper (Manual) Instrument Tracking and Electronic Tracking Systems: Weighing the pros and cons
In a recent episode of ConCensis, host Gabrielle Benjaro speaks with Arlene Bush, Team Supervisor for the U.S. Department of Veteran Affairs (Sterile Processing), and Marlin Minnis, National Conversion Manager at Censis, who discussed their experiences with both tracking systems.
Bush explained the importance of a tracking system in ensuring compliance and maintaining patient safety. She shared her experience with paper tracking, which she found to be daunting and prone to errors. Minnis highlighted the challenges of counting chips maintenance and losing master copies with the paper system.
The discussion shifted to the benefits of electronic tracking systems, which Minnis explained gave the department more credibility and accountability. Arlene Bush added that the electronic tracking system is essential for competency tracking, usage, instrumentation or scopes, and processing time, which are crucial for maintaining compliance and patient safety. They also spoke about their experience using CensiTrac at their facility, praising its features, functionalities, and the ease of generating reports on loads and notes that were attached to them.
Latest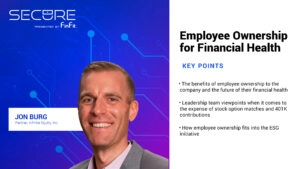 June 8, 2023
Dallas, TX – The newest podcast episode of SECURE by FinFit explores the rising trend of employee stock ownership plans (ESOPs) and how they impact employee behavior and financial resiliency. According to Gallup, 58% of Americans owned some form of stocks in 2022, but only around 4% of the U.S. population participate in ESOPs. However, […]
Read More