Tia McIntosh, FranklinCovey Coaching Director, On How to Create a Culture of Belonging
Dallas, TX – FranklinCovey Coaching Director, Tia McIntosh, joins host Dustin Odham on the latest episode of Change Starts Here to discuss the importance of building a culture of belonging in education. With students and teachers striving for a "new normal" after the COVID-19 pandemic, McIntosh offers strategies for educators to reach students in high-poverty areas and build authentic relationships with them.
According to a recent report from The Collaborative for Student Growth, students in K to 8th grades are rebounding in key areas like math and science. However, students in high-poverty areas are falling behind. McIntosh stresses the need for urgency to meet the needs of these students and create a culture of belonging in education.
During this episode, McIntosh shares her personal journey as a lifelong educator and champion for students and educators. She emphasizes that teaching children how to be people is just as important as academic instruction. To do so, educators must build authentic relationships with their students.
McIntosh earned her B.A. in English at the University of Delaware and later earned her Master of Public Administration from Rutgers University. She fell in love with teaching in 2011 while working at the Camden City School District. During her tenure there, McIntosh worked at the elementary, middle, and high school levels until she became a school administrator.
Change Starts Here is a podcast by FranklinCovey that explores leadership development and personal growth. The latest episode featuring Tia McIntosh is available now on all major podcast streaming platforms.
About FranklinCovey:
FranklinCovey is a global company specializing in performance improvement. They help organizations achieve results that require lasting changes in human behavior by providing content, tools, methodology, training, and thought leadership. Their mission is to enable greatness in people and organizations everywhere.
Latest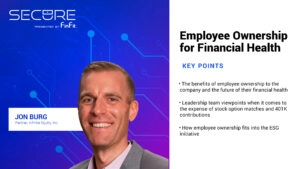 June 8, 2023
Dallas, TX – The newest podcast episode of SECURE by FinFit explores the rising trend of employee stock ownership plans (ESOPs) and how they impact employee behavior and financial resiliency. According to Gallup, 58% of Americans owned some form of stocks in 2022, but only around 4% of the U.S. population participate in ESOPs. However, […]
Read More