Trust Changes Everything with Kim Nelson
Dallas, TX – FranklinCovey, a global company specializing in organizational performance improvement, has released a new episode of its podcast, Change Starts Here. In this episode, host Dustin Odham engages in a discussion with Kim Nelson, a Coach and Consultant with FranklinCovey Education, about the power of trust and its impact on everyday life and education.
Trust is a word that has many interpretations, but no matter which is chosen, it plays a critical role in building connections, deepening relationships, and fostering transparency and communication. The two experts dive deep into the topic and discuss how trust is crucial in the educational landscape, its role in leadership, and how it has affected school and district performance before and after the pandemic.
Kim Nelson has served as a long-time educator based in Alden, Iowa, and has worked with FranklinCovey for the past six years. Her mission statement, "To encourage and inspire others to find their greatness," has helped her serve over 32 schools in Iowa and Minnesota. She earned her Master's in Education Leadership from the University of Northern Iowa.
The Change Starts Here podcast is a platform where industry experts discuss the most pressing issues facing businesses and individuals today, offering valuable insights and solutions to overcome these challenges. To tune into this episode and more, visit https://marketscale.com/shows/change-starts-here/ or listen to Change Starts Here with Dustin Odham on your preferred podcast platform.
Latest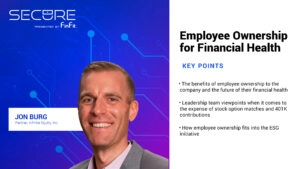 June 8, 2023
Dallas, TX – The newest podcast episode of SECURE by FinFit explores the rising trend of employee stock ownership plans (ESOPs) and how they impact employee behavior and financial resiliency. According to Gallup, 58% of Americans owned some form of stocks in 2022, but only around 4% of the U.S. population participate in ESOPs. However, […]
Read More