UMF|PerfectCLEAN Names Marie Ferguson of Element Orlando Universal Blvd as National Guest Room Attendant Excellence Award Recipient
NORTHBROOK, Ill., March 21, 2023 /PRNewswire/ — UMF|PerfectCLEAN today announced that Marie Ferguson, guest room attendant (GRA) at Element Orlando Universal Blvd has earned the company's fourth annual National Guest Room Attendant (GRA) Excellence Award. UMF|PerfectCLEAN established the National GRA Excellence Award to recognize the invaluable contributions of GRAs – hotel housekeepers – who ensure safe guest and employee environments in hotels and lodges across the country.
"Marie is an immigrant who joined my property through a contract labor company in early 2021," said Chris Heaxt, General Manager, Element Orlando Universal Blvd. "From day one, she has brought such a high level of energy and engagement to our housekeeping team. Marie has some of the lowest minutes per room, highest guest satisfaction ratings, and most trainees of any associate. A star player on our team, she loves talking with guests and ensuring they feel welcome and comfortable. She recently worked her way to become a U.S. citizen, and is now directly employed by Element Orlando Universal Blvd. Through hotel-sponsored training and on-the-job experience, we are committed to helping her continue thriving."
Almost all hotels are dealing with staffing shortages. According to the latest survey from the American Hotel and Lodging Association (AHLA), 87% of hotels are understaffed, and the most critical need is housekeeping, with 43% ranking it as their biggest challenge. Further increasing pressure on hotel housekeeping departments is the fact that travelers are more focused than ever on cleanliness and sustainability.
"We are privileged to celebrate Marie for her dedication to ensuring a safe hotel environment during a year that presented its own unique industry challenges," said UMF|PerfectCLEAN CEO George Clarke. "Marie's incredible results and positive attitude speak for themselves. The fact that she contributed so much to Element Orlando Universal Blvd while becoming a U.S. citizen made her stand out among our pool of talented GRA Award applicants."
As the 2022 GRA Award recipient, Marie will receive an all-expenses paid trip for two, including airfare, to a location of her choice within the 48 contiguous states.
Olga Merlos of the Sheraton Commander in Cambridge, Mass., and Tenzin Topten of Le Meridien New York, Central Park, were selected as finalists for the 2022 award. Both will receive a $500 gift card. UMF|PerfectCLEAN also will donate to Giving is Love, the charity Tenzin started to help communities around the world.
Four additional GRAs earned honorable mentions, for which they will each receive a $250 gift card. They include:
Added Clarke, "We established the National GRA Excellence Award to celebrate frontline hotel workers such as Marie who consistently ensure the highest standards of infection prevention are maintained in guest rooms and common areas throughout the hotel."
View a video of Marie receiving the award here.
About UMF|PerfectCLEAN
UMF|PerfectCLEAN is the leader in the research and development of high-performance products, programs and training for the infection prevention and commercial cleaning markets. Through extensive testing, exhaustive analysis, and the commitment of significant human and financial resources, new antimicrobial technologies have been merged with innovative product designs that are redefining the future of clean®. http://www.perfectclean.com, LinkedIn
SOURCE UMF Corporation
Latest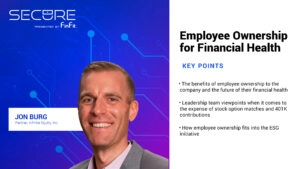 June 8, 2023
Dallas, TX – The newest podcast episode of SECURE by FinFit explores the rising trend of employee stock ownership plans (ESOPs) and how they impact employee behavior and financial resiliency. According to Gallup, 58% of Americans owned some form of stocks in 2022, but only around 4% of the U.S. population participate in ESOPs. However, […]
Read More