Unlimited Systems Partners with Phressia to Improve Patient Experience
Dallas, TX – Delivering a better patient-driven experience is crucial in healthcare, especially in oncology, where utilizing tools to collect patient-reported outcomes and addressing care gaps can make a difference. That mission recently got a boost through a new partnership between revenue cycle application provider Unlimited Systems and Phressia, a provider of robust patient intake tools. Patients will benefit from a faster, self-service check-in model and insurance verification before a visit through this partnership.
These types of solutions continue a trend of democratizing personalized healthcare and improving patient care in a post-pandemic world. For many years, Unlimited Systems focused on oncology as its primary specialty but is branching out to aid other areas of healthcare. Through its partnerships with companies like Relatient and Phressia, Unlimited Systems seeks to be a total solution provider for healthcare practice systems.
Dash Talk by Relatient host Gabrielle Bejarano, spoke with Unlimited Systems' Founder and CEO, Brian Gockerman, about the challenges in healthcare and the products and solutions Unlimited Systems provides.
Bejarano and Gockerman's discussion includes the following:
Solving challenges within the healthcare network during the pandemic and beyond
Unlimited Systems' partnership with Relatient to provide better tools and improve patient outcomes
Some of the goals Unlimited Systems has for 2023 and beyond
"We are looking forward to having the Relatient team on May 9-11 in Cincinnati for our Direction's Conference, where Relatient and our long-term partnership with us will be featured with our customers," Gockerman said. "We're in the midst, right now, with our install base and graduating them to some new Microsoft Azure cloud-native capabilities in our own software. Relatient is an important part of that, and we continue to advocate for their use."
About Unlimited Systems
Unlimited Systems is a healthcare financial systems company that provides revenue cycle application providers to healthcare practices.
Contact
Unlimited Systems
(513) 821-4222
https://www.unlimitedsystems.com/
Latest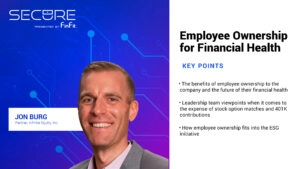 June 8, 2023
Dallas, TX – The newest podcast episode of SECURE by FinFit explores the rising trend of employee stock ownership plans (ESOPs) and how they impact employee behavior and financial resiliency. According to Gallup, 58% of Americans owned some form of stocks in 2022, but only around 4% of the U.S. population participate in ESOPs. However, […]
Read More