ARC SPECIALTIES MULTI-POSITIONER ROBOTIC CELLS DELIVER PRODUCTIVITY ENHANCEMENT
In manufacturing, efficiency is paramount.  To remain relevant in today's increasingly competitive business environment, implementing advanced technology and streamlining operational workflows is crucial to success.  With customer demands for quality products at lower prices on short timelines, only the most optimized manufacturing systems will be able to deliver.
Arc Specialties has taken on this efficiency challenge and developed multi-positioner robotic cells.  With an innovative design that greatly enhances productivity while offering versatility, safety, and portability, Arc Specialties multi-positioner robotic cells are the ideal solution to maximizing manufacturing processes.
Increase Productivity
Single robot and positioner systems experience prolonged periods of non-productive time. Loading, prepping, and unloading of materials must be performed while the robot is at rest. And when tasks performed by process-specific cells aren't necessary to a specific phase of the manufacturing process, these cells sit idle, wasting valuable factory real estate.  With multiple positioners for a single robot, operators can load and prep one positioner as the robot carries out its designated task on the second positioner, providing significantly quicker floor to floor cycle times. This flexibility allows manufacturers to do more with one machine while reducing square footage that would otherwise be necessary for multiple single robot and positioner systems with extended idle and slower cycle times.
The versatility of the Arc Specialties multi-positioner robotic cells also facilitate smooth transitions between processes as needed.  While primarily used for welding and cutting applications, multi-positioner robotic cells can be utilized to carry out numerous tasks, improving the tractability of any manufacturing space.  Featuring 2 axis positioners with a 6-axis robotic arm, Arc Specialties' RoboCell-2P easily accomplish complex operations.  Accommodating capacities from 3,000 lbs. to 12,000 lbs. and larger units equipped with two robots available, Arc Specialties' line of multi-positioner robotic cells can satisfy any manufacturing need.
Portability
As industry demands evolve, so too must the layout of manufacturing facilities.  Robots and positioners that are anchored to the floor are difficult to relocate, translating to increased costs and extended downtime during critical transition phases. The durable self-contained skid package of Arc Specialties' multi-positioner robotic cells provides superior portability. Their convenient single skid design enables easy unit loading and unloading for transportation to other locations, facilitating efficient arrangement of manufacturing equipment for streamlined operations and the ability to implement new layout designs with minimal cost or downtime.  And larger units are outfitted with detachable auxiliary skids for simplified shipping.
Improve Safety
Compromising safety for productivity is not an option. Arc Specialties puts safety at the forefront of every design, and their multi-positioner robotic cells are no exception. Innovative safety features such as advanced sensors that detect the robot's position within the cell ensure the safety of the operator and the wider area as well, improving overall safety performance and productivity simultaneously.
Make an Impact with Arc Specialties
Arc Specialties understands the challenges associated with today's manufacturing environment.  Whether utilized for GTAW/GMAW welding, plasma cutting, hard facing, or the production of livestock fencing or oil field equipment, Arc Specialties' multi-positioner robotic cells improve productivity, reduce idle time, and enhance safety to deliver impactful business results and improved bottom lines.
Learn more about Arc Specialties product lines here!
Read more at arcspecialties.com
Latest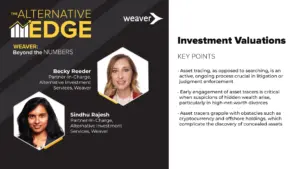 December 4, 2023
In this episode of The Alternative Edge, a Weaver: Beyond the Numbers Podcast, host Becky Reeder, an audit partner and co-leader of the alternative investments practice at Weaver, engages with Sindhu Rajesh, an Alternative Investment Services Partner with Weaver. They unpack the complexities of venture fund valuations, offering critical insights into industry dynamics and best […]
Read More