Form Follows Food: Conceptual Concrete in Kitchen Design
To put it simply, food is at the core of human existence, making the kitchen not only an imperative part of a home but of life itself. These spaces have changed markedly since the beginning of time, but their purpose remains the same—a place of family, community and congregation.
In our present-day food-conscious world, people have never been more aware of what they put in their bodies. The modern kitchen is a reflection of people's unique choices, and with the vast customization options available, today's homeowners can tailor their spaces to the style of cooking and food choices they enjoy. These design choices, often a reflection of people's personalities, embody the idea that food takes form in the current kitchen landscape.
Sometimes in a kitchen, form follows food. In our 2019 Kitchen Trend Book, we outline how this movement is currently inspiring kitchen design.
In the Concrete Kitchen
Wielding an inherent magnetism, raw food and natural cooking ingredients provoke a primal compulsion within humankind to create. The urge to mold, knead and roll dough for a tart crust, or perhaps mash, blend and spread a fruit paste are both processes much like those developed and used since ancient times to make concrete and other mortar materials for art, design and building.
Today, in modern kitchen design, form is following food, incorporating sturdy materials that generate a handcrafted feel, similar to a chef-prepared feast, allowing the motif of these spaces to become emblematic of their function.
Authenticity in Food and Function
Designers now more than ever have found unusual and extraordinary ways to evangelize recycled or authentic materials, a trend that is shaping the industrial-style kitchen. Capturing the imagination and compelling innovation as much as natural food ingredients, robust and raw construction materials inspire skillful artistry, manifesting textures and amalgamations through the blending of plasters, the chiseling of rock and the pummeling of stone.
The feeling of a handmade product is powerful, and these concepts provide that handcrafted sense in spaces like kitchens, where scratch-made meals are made every day. Materials, including concrete-like quartz and metals, evoke a sense of hunter-gatherer primality, while rustic materials like raw concrete and stone echo food preparation and cooking processes. The craftsmanship that has shaped food preparation since the beginning of time is now transforming kitchen surfaces.
Inspiration Comes Home
Kitchen surfaces are a canvas that mirrors the persona of a home's occupants. Sturdy and beautiful, they must endure harsh use while exuding both refinement and character. Caesarstone materials, which consist of up to 93% quartz, bring imagination to life. The Metropolitan Collection reflects layers found in industrial art, lending tangible texture and distinctive individuality to a space.
New to the collection is Primordia, Excava, Cloudburst Concrete, Topus Concrete, Airy Concrete and Frozen Terra. Their colors are inspired by the renaissance of industrial commercial buildings and the raw materials within them.
Learn more about how Caesarstone designs and other innovative surfaces can help mold your kitchen to match the concepts that inspire your cuisine in our new Kitchen Trends book, Form Follows Food.
Latest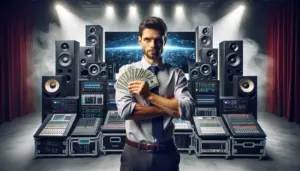 December 8, 2023
Mastering AV sales strategies in a global professional audio-visual (Pro AV) market, poised to reach $79.2 billion by 2028, requires much attention to detail. The surge in demand from corporate, government, and institutional sectors, driven by the need for enhanced productivity and efficient working environments, gives AV sales pros a lot of opportunity. In […]
Read More