BREEZER MOBILE COOLING TO HIT HAWAII AT LANPAC 2018
LANPAC 2018 is coming up on May 22-24, and Breezer Mobile Cooling is excited to attend! This world-class international event will be held at the Sheraton Waikiki Hotel in Honolulu, HI. It will highlight the role of land forces in the Indo-Asia-Pacific theater and their contributions to the Joint Force in both peacetime and war. The Association of the United States Army's Institute of Land Warfare and the U.S. Army Pacific and U.S. Pacific Command are presenting this year's show. Mike Yoakum, CMSgt (USAF Ret) Director of Government National Strategic Accounts expressed his excitement over attending: "We come out here to Hawaii every year in support of this great show. It's a terrific opportunity to connect with industry, active military and local DoD, all focused on the Indo-Asia Pacific area."
WHY ATTEND?
More than 1500 attendees will be at LANPAC 2018. These participants will be coming from places domestic and foreign, from different military ranks, and from various branches. In addition, participants will enjoy presentations from key leaders and embrace a whole-government approach to national security. With an exhibit hall and hands-on demonstrations, professional learning opportunities are plentiful. At LANPAC 2018, attendees can also network with other professionals in a tropical venue while sharing about issues related to a variety of military operations.
EMBRACING THE U.S. ARMED FORCES
Breezer Mobile Cooling has a history of strong support for U.S. soldiers. Brian Williams, MSG (US Army Reserves) is our Regional Business Development Manager. He described Breezer Mobile Cooling's commitment, stating, "Our rugged cooling fans make such a difference for the soldiers. Especially in the Indo-Asia Pacific area with high heat and humidity. They face so many threats. Heat should not be one of them." Our products are designed and assembled in the U.S.A. and a large percentage of our workforce is veterans. And because those protecting us need protection from extreme temperatures, we designed our mobile cooling products to be durable and tough. They reduce mistakes, increase productivity, while creating safe work environments and keep mission readiness high. 
CONNECT AT LANPAC
We invite you to come by our booth L13 and learn about the cooling solutions powerful enough to be military-strong. You face enough threats. Don't let heat be one of them.
Learn more about Breezer Mobile Cooling solutions here.
Read more at powerbreezer.com
Latest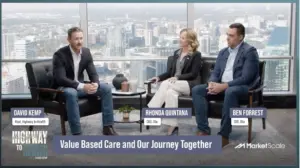 December 7, 2023
As of recent times, the healthcare industry has been progressively shifting towards value-based care, a model that emphasizes patient outcomes over the quantity of services delivered. This transition represents a significant shift that promises to enhance patient experiences and outcomes while controlling healthcare costs. With a growing emphasis on this approach, especially over the […]
Read More