Dallas Holocaust Museum Brings Modern Technology to Historic District
[vc_row][vc_column][vc_column_text]In a matter of years, there will no longer be living survivors of the holocaust. To preserve this history, the Dallas Holocaust and Human Rights Museum raised close to $70 million through a fundraising campaign, mainly to upgrade to a new 55,000-square-foot facility that broke ground in October of 2017.
The museum will remain in Dallas' West End, a designated historic district that sets strict requirements for building size, materials and color, according to City of Dallas senior planner Liz Casso.
That did not stop Dallas-based design architect OMNIPLAN from planning a space that interacts with visitors through audiovisual components and other technological advancements to make the museum experience immersive.[/vc_column_text][vc_media_grid element_width="6″ grid_id="vc_gid:1528916421197-4de3631b-11b6-0″ include="27775,27776″][vc_column_text]"We create experiences, that is what we aim to accomplish," OMNIPLAN director of business development Amanda Buckley said. "Certainly, the museum is educational, but it is about evoking an emotional response."
Inside the building, the exhibits take guests back in time with modern technology. OMNIPLAN and general contractor Austin Commercial were tasked with creating an interactive experience for guests, which will be accomplished through video, audio and holographic technology.
"The human rights piece of the museum is very interactive," OMNIPLAN's lead designer on the project Mark Holsinger said. "On a screen, guests can essentially pick their own exhibit and be guided by their own interests."
Austin Commercial also had a unique challenge given the significance of the content in the museum and because of the immersive experiences it plans to house within its walls.[/vc_column_text][vc_media_grid grid_id="vc_gid:1528916421202-36650ae6-bbb5-6″ include="27777,27778,27779″][vc_column_text]"We had to work closely with OMNIPLAN because with this museum, it is more than just hanging pictures on the walls," Brad Brown, president of Austin Commercial said.
Museum president Mary Pat Higgins stressed the importance of making the space interactive as well.
"The design competition (that was organized to choose an architect) made clear that the museum had to be experiential," she said. "We wanted the visitor experience to be enhanced without them necessarily realizing it."
Higgins also said the museum is collaborating with the University of Southern California's Shoah Foundation, which has developed an interactive platform called 'Dimensions in Testimony' that will capture responses to 1,000 questions to a holocaust survivor. Guests will be able to ask questions to the survivor's image and receive a response directly.
[/vc_column_text][vc_media_grid element_width="3″ grid_id="vc_gid:1528916421204-d5bd2d7a-e286-5″ include="27782,27790,27789,27781″][vc_column_text]Audiovisual technology is featured prominently as a tool to bring out a mix of emotions throughout the museum including a theater equipped with a 50-foot screen for high-resolution digital media displays. Teaching areas in the museum will also have moveable walls that allow for customizable spaces, according to the museum website.
Holsinger and Buckley said the materials chosen on the outside of the building were selected because they will age over time, reflecting the district and spirit of the museum.
"We were working with a restricted West End material palette," OMNIPLAN director of business development Amanda Buckley said. "We wanted to create warmth, so we used copper, stone and brick because of their warmer hues."
The new building is scheduled to open in the fall of 2019.[/vc_column_text][/vc_column][/vc_row]
Latest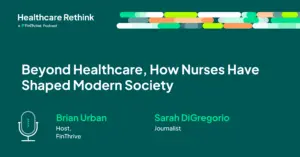 December 4, 2023
Nurses Have Shaped Modern Society beyond healthcare to stand as pivotal figures that transcend their traditional roles, influencing the broader spectrum of societal change. Healthcare Rethink, a FinThrive podcast hosted by Brian Urban, welcomes Sarah DiGregorio, Journalist, Author, and Speake,r to discuss her second book, "Taking Care: The Story of Nursing and Its Power […]
Read More