Form Follows Food: Dark Rituals in Kitchen Design
Food is not only essential to the human experience, but it's also become a huge inspiration for the materials used in creative endeavors. While food has historically been an influence in design, there is a new modern approach dubbed "Form Follows Food"—this concept is profoundly shaping designs in contemporary kitchens, and Caesarstone is excited to share our new trend book focusing on this ideology.
Sometimes in a kitchen, form follows food. In our 2019 Kitchen Trends Book, we outline how this movement is currently inspiring kitchen design.
New Cooking Trends Impact Design
Design can often take the form of food, and cooking is currently returning to its humble beginnings. It's back to the basics of the days when humans had to hunt and forage for foods. Those who cook and those who eat desire simplification and natural ingredients. With this in mind, the design of kitchen surfaces it taking a cue from the past as well with new textures and a focus on the black aesthetic, which we've captured in Dark Rituals.
How Does Form Follow Food?
To explain and explore this new trend (along with Conceptual Concrete and Marbling Mood), we created the Form Follows Foodkitchen trends book. With an aspiration to return to primitive cooking comes the same craving to reimagine kitchen surfaces. Within this movement, the power of the color black is newly revealed and rediscovered. This blackening theme is a new direction, as stark white has been the ideal mainstay of kitchen décor for many years.
Now, there is a real shift toward dark with black quartz, cast iron, clay pots and scorched ingredients. Dark materials such as stone, slate, porcelain, oxidized metal and lacquered wood are being combined for a completely new take on the modern kitchen. Consumers who are always seeking the next trend are embracing shades of darkness for a completely new vision for their culinary spaces.
Coordinating Colors for Dark Surfaces
Caesarstone, a leader in the creation of quartz surfaces, has always focused on innovation. With innovative technology and an eye on the details, our quartz products offer a pleasing aesthetic and durable longevity.
The idea behind Dark Rituals welcomes new textures, finishes and designs to create a striking space like no other. Combining dark with other complementary tones is essential for a distinct design. Here are some of our favorite dark designs:
Raven (4120), found in the Classico Collection, is a delicately blended two-toned surface of light grey and smoky slate grey that is dramatic in design yet functional in application. Cancelation
Piatra Grey (5003) from the Supernatural Collection has a marble texture of smooth slate grey with chalky white veins, adding an earthy comfort and charisma to your distinct design style.
Vanilla Noir (5100) has a rich, ebony-colored base rippled with expanding creamy white veins. The black and white combo exudes bold personality and luxe style.
The world of food and materials are intertwined in many aspects of creative expression, a synergetic inspiration creating a catalyst for the new Form Follows Food trend. Get inspired by browsing the Caesarstone Kitchen Trends book today.
Latest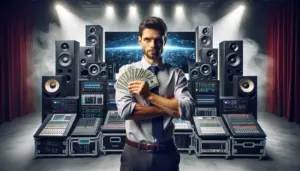 December 8, 2023
Mastering AV sales strategies in a global professional audio-visual (Pro AV) market, poised to reach $79.2 billion by 2028, requires much attention to detail. The surge in demand from corporate, government, and institutional sectors, driven by the need for enhanced productivity and efficient working environments, gives AV sales pros a lot of opportunity. In […]
Read More