KEEPING COOL IN QUEENSLAND—DESPITE THE HEATWAVE
When it's winter in the United States, that means it's summer in Australia. You can think of it like this: their November is our May—meaning, it's late spring there. Late spring is warm, but rarely hot—even in places like Australia.
While most of Australia is desert, the east coast is typically mild. In November, places like Queensland rarely get above 80°F. However, many places in Queensland are hitting the mid-to high-90s. That is hot for late spring. Worse, Australian summers are only getting hotter.
Of course, Queensland is not the only place that has been experiencing heatwaves. 2018 saw the 4th hottest summer in U.S. history. Global warming has brought repeated summer heatwaves throughout the world, whether your summer is in August or February.
Heatwaves are Health Dangers
Although Australia has a history of dangerous heatwaves, too many Australians fail to take the precautions they need to keep safe and healthy. Believe it or not, in a country with the most venomous spiders and snakes, where the rivers are alive with crocodiles, and the oceans are full of deadly jellyfish and sharks, it's the heat that's by far the most dangerous natural hazard. Yet many do not proactively respond to heatwave warnings as they should.
Heatwaves like this latest one are more than just uncomfortable—they can be downright dangerous, resulting in heat illness or deadly heat stroke. They are even worse news for the elderly and young children, who are much more temperature-sensitive. Outside and inside workers are affected, too. If you feel dizziness or nausea, or if you start to vomit or feel faint, it's time to get out of the heat and into the cool.
In addition to staying cool, keeping hydrated with cold water is vital during periods of high heat. Our bodies sweat as a natural defense to heat. But sweating dehydrates our systems—which can lead to a number of other health problems. Cold water not only rehydrates our bodies but helps to keep us cool by cooling our core temperature. Sports drinks should also be handy to replenish electrolytes lost through perspiration.
Power Breezer Brings the Cool
Whether work is performed indoors or outdoors, heat is a hazard in many Australian workplaces. This is especially true during the midst of a heatwave. Safe Work Australia urges employers to "review their controls for working in hot conditions and take steps to ensure workers are safe."
Breezer Mobile Cooling is committed to developing products to help moderate even the hottest temperatures—even the hot, harsh climate of the outback. Our industrial, mobile air coolers are ideal for both indoor and outdoor uses. Much to their relief, the Power Breezer by Breezer Mobile Cooling is available in Australian markets. So, the good news is that there is an effective  portable cooling solution available to help our mates down under keep cool, safe and healthy.
To learn more about what Breezer Mobile Cooling can do to keep you cool, visit us at https://powerbreezer.com/about/ today!
Latest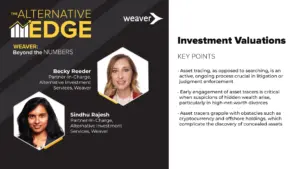 December 4, 2023
In this episode of The Alternative Edge, a Weaver: Beyond the Numbers Podcast, host Becky Reeder, an audit partner and co-leader of the alternative investments practice at Weaver, engages with Sindhu Rajesh, an Alternative Investment Services Partner with Weaver. They unpack the complexities of venture fund valuations, offering critical insights into industry dynamics and best […]
Read More