KITCHEN TRENDS: THE CALM LUXE STORY
The kitchen is not just a room where people cook and eat; it is the place where life plans are made, milestones are celebrated, and our hearts are shared. Caesarstone has harnessed the power of this beloved space in creating Kitchen Trends, a book that not only examines, but also pays tribute to kitchen design by narrating four stories and weaving them together seamlessly.
In this book, culture, history and individualism intersect to breathe life into kitchen design trends with words, pictures and textures. Each of the four stories features Caesarstone surfaces alongside textiles, woods, metals and other trending designs and materials.
Alongside the stories of Timeless Classic, Wild Living and Urban Industrial, is Calm Luxe. Designers seek to strip away nonessentials and return to the quiet core of peaceful existence.
Are You Calm Luxe?
Today's lifestyles are fast-paced and filled with wonder, in an age in which possibility continually becomes reality. We are instantly connected to others in diverse and sometimes complex ways. While the fulfilled human experience is partly defined by a need for intimacy, we are also sustained by the quiet existential moments in which we connect with the self.
Speaking to the desire for wholeness, Calm Luxe tells the story of paring to essentials to find the quiet retreat of the singular moment. Here, surfaces, materials, and colors draw inspiration from the most basic of forms and focus on functionality, as expressed by careful details and high-quality finishes.
Calm Luxe uses colors and textures that embrace simplicity and soft minimalism while silencing the noise of an often-chaotic modern culture.
A Simplistic, Unadorned Aesthetic
Rich but humble materials reject the extraneous in favor of modesty. This kitchen features bare and cold fundamentals with highly utilitarian forms. You'll find tools here with specific singular purposes, and while high technology is ever-present, it operates in discretion, eschewing the characteristic visibility of contemporary life.
With a palette of the muted powdery tones of neutral pastels, meticulous detail tells the story of Calm Luxe. In a narrative that touches our essence and provides sanctuary from the superfluous, woods are delicately blanched and coexist peacefully with sleek metals and white stone. Ready to meet your most basic needs in a haven of calm simplicity, Calm Luxe appeals to our instinctual yearning to live a more unadorned life.
Caesarstone's Calm Luxe Kitchen
Caesarstone has a collection for every chapter in your life. For those seeking a minimalist and reflective space, Frosty Carrina or Pure White offer pared-down but exquisite surfaces. Subtle neutrals and light woods complete the barely-there ensemble.
Caesarstone's finishes encourage you to create a kitchen aesthetic that integrates easily with impressive modern technology, but with no need to boast.
Kitchen Trends reflects the authentic concepts of blissful living. To learn more about Caesarstone and Kitchen Trends, visit the website today.
Read more at caesarstoneus.com
Latest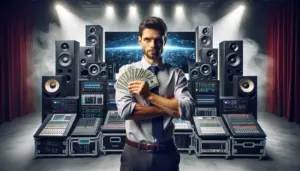 December 8, 2023
Mastering AV sales strategies in a global professional audio-visual (Pro AV) market, poised to reach $79.2 billion by 2028, requires much attention to detail. The surge in demand from corporate, government, and institutional sectors, driven by the need for enhanced productivity and efficient working environments, gives AV sales pros a lot of opportunity. In […]
Read More