Why are Specifications so Hard? Lessons From Construct 2019
Architecture and design is a detail-oriented business. Specifications around materials is incredibly important but meeting requirements laid out in potentially outdated manuals can cause delays and headaches for everyone involved in a project.
Beth Stroshane, Managing Partner at Applied Building Information, LLC, spoke on the subject at Construct 2019 in an educational session titled Why are Specifications so Hard?
"The challenge with specifications is that if you've got 10 projects running in parallel and different performance requirement sets in each one of those, trying to keep them straight," Stroshane said.
Stroshane did say the specifications industry has improved recently with the development of better software. Still, spreading awareness about the specification process remains a challenge.
"Specifications are kind of like a mystery. If you asked a dozen people in the industry at various different levels, 'do you know what specifications are?', Yes. 'Are they important?' Yes. 'Do you know how they work?' No," Stroshane said.
For architects to simplify dealing with such dense regulation, there are several actionable steps architects can take, according to Stroshane.
"Go find something easy. Something you feel like you totally understand. Everyone has seen a fire extinguisher cabinet and everybody has used a toilet paper roller, so start with those and see if you can take that spec and read through it and understand the parts of it," she recommended.
Digitization of specifications may help younger architects and the industry become more organized, but there is still work to do. Conferences like Construct continue to bring awareness to the issues at hand.
Latest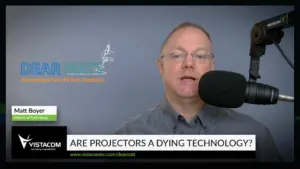 December 4, 2023
Are projectors a dying technology? In today's rapidly evolving landscape of display technology, one might assume that projectors could soon be a thing of the past. Not so fast, thinks Vistacom's Director of Technology, Matt Boyer. In this Dear Matt segment, Boyer, a seasoned expert with over three decades in the AV industry, looks […]
Read More