Correcting the Behavior Behind Distracted Driving
There are many aspects of the safety landscape. Most happen within a facility, but driving is different. It's also an area that has the propensity to endanger many lives. To prevent distracted driving, individuals must understand the behavior behind it to change. Offering insights on the topic is expert Carly Baez, Safety Manager II at Kitchell, who joined the Safety Justice League hosts.
Baez carved out a career in safety through some nontraditional angles, working in the workers' comp space as well as working with associations, speaking and training. She's led webinars on distracted driving behavior changes and is part of the Annual Arizona Distracted Driving summit.
One thing she learned in her career is, "It's about changing culture and the way people look at safety."
When it comes to distracted driving, laws are great, but they don't address the behavior. "Hands-free is not enough. Distraction is distraction. With all the things happening, is it really safer?" Baez said.
Baez noted it would be great if all she had to say was don't text and drive. "It doesn't work that way. We all know we shouldn't, but we have to understand the behavior to correct it."
Behavior is often rooted in past experience. Baez shared what many people see before they even become drivers. People drink coffee, eat behind the wheel, and put on makeup. "We see all this, but nothing bad is happening, so we accept it as typical behavior."
Baez countered that making a plan for driving in the car is as essential as planning anything else. One exercise she recommended was not responding to a phone for 30 minutes. "Anxiety may go up when you don't respond. It's reprogramming. In those 30 minutes, what did you actually miss? Likely not much, so why can't you silence the phone while driving."
More Stories Like This:
Latest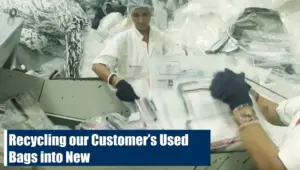 December 6, 2023
This video focuses on EcoLOK4, a groundbreaking product by CONTROLTEK that exemplifies innovation in sustainability. It highlights the process of transforming landfill waste into new deposit bags, with 90% of each bag's material being repurposed trash. This initiative not only reduces waste but also closes the sustainability loop, demonstrating CONTROLTEK's commitment to environmentally friendly […]
Read More