Conversations from The EDGE: How to Encourage Gen Z to Embrace Skilled Trades
What's the single most valuable skillset for a skilled tradesman? Surprise, it's not 100 percent talent. Soft skills can be the secret ingredient for success in blue-collar trades, according to Josh Zolin, author of the book Blue Is the New White: The Best Path to Success No One Told You About and CEO of Windy City Equipment Services. Josh joined Service Logic Vice President Greg Crumpton and host Sean Heath on this new episode of Conversations from The EDGE with Service Logic.
"I used to think soft skills were 50/50 versus technical prowess, but now I think overall EQ is superior," Josh said. "There's always help on the technical side, but being able to put the customer at ease far outweighs being able to read a meter or a set of gauges."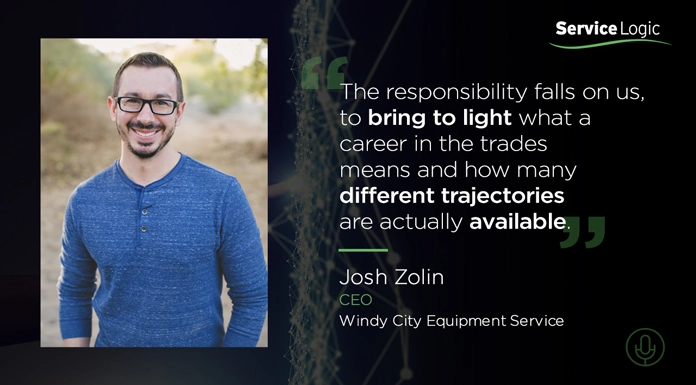 Josh and Greg point to emotional intelligence, empathy for customers, and a service-minded attitude as traits that fall under the "soft skills" umbrella. "That's really the path to success," Josh said.
But before the industry can extoll the virtues of soft skills, it must first change its perception. A career in the skilled trades was once well-regarded as a good, lucrative profession, but somewhere along the way society labeled skilled tradesmen as blue-collar and less desirable than college-educated white-collar workers, Josh explained.
"The responsibility falls on us inside the trades to bring to light what a career in the trades actually means and how many different trajectories are available," Josh said.
Greg said, "That means you have to reach out and bring people with you. It's all about relations."
For the latest news, videos, and podcasts in the Building Management Industry, be sure to subscribe to our industry publication.
Follow us on social media for the latest updates in B2B!
Twitter – @BuildingMKSL
Facebook – facebook.com/marketscale
LinkedIn – linkedin.com/company/marketscale