The Art of Waiting: How Virtual Queuing Can Help Businesses Reopen Safely During The Coronavirus Pandemic
Waiting in line never has been fun, but now it can be dangerous.
Grocery stores and other retail outlets have tried to use tape or other systems to enforce social distancing measures that prevent the spread of COVID-19; however, it can be a struggle with customers not used to the system or simply not paying it any mind.
The solution may be in virtual queuing, methods that allow customers to get in a line that exists outside the physical realm and then be notified when they should come in.
"What we actually want to do is remove people from lines altogether," said Erik Berg, VP of Marketing for NEMO-Q. "They can wait in their cars, they can wait from home and ultimately it leads to all of us being a lot safer, a lot more health conscious and still leaves a positive taste in the mouth. You're not going to that business and being forced to wait outside because they're 20% capacity. You can wait from the comfort of your home."
The setup can be effective for places like small barber shops, letting a shaggy customer know the chair is now ready for the post-quarantine fade, or as big as sports stadiums when fans are allowed to enter those facilities once again.
"We're looking at ways to allow people to get their tickets and then be told when it's safe for them to come inside, maybe moving into the stadium in waves, going to get concessions at certain times and getting push notifications to their phones," Berg said. "There are lots of different strategies to look at and implement, but I think appointment scheduling and overall use of cell phones is the biggest one for us."
Right now, it's keeping us safe, but perhaps in a not-too-distant future when coronavirus is a thing of the past, we'll also find we want to spend less time in lines simply for convenience's sake and the innovative solutions offered by NEMO-Q may become a part of every day life.
Latest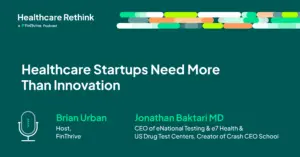 December 11, 2023
Healthcare startups need more than innovation; they require dynamic leaders willing to take these endeavors beyond the ordinary into uncharted waters to generate unparalleled success and lead the industry forward. In the latest episode of The Healthcare Rethink Podcast, host Brian Urban sits down with multifaceted healthcare leader Jonathan Baktari, MD, CEO of eNational […]
Read More