BlockFi Bankruptcy Continues Crypto Investor Worries

After the FTX collapse, crypto lender BlockFi, followed suit filing for their own bankruptcy, with their largest unsecure creditor being owned $729 million according to Bloomberg. Crypto is currently in a bad spot and many investors are waiting for the next lender to file. However, this does not necessarily mean the crypto market is a goner, despite what it may look like. Should the market get the proper stabilization and regulation, the crypto market could bounce back from the FTX collapse, BlockFi bankruptcy, and all other market mishaps.
Rupert Runewitsch, Chief Growth Officer & Partner at Kollectiff, shares his thoughts on the BlockFi bankruptcy, stating that although it proves those doubting crypto right, alternatively, it creates a stronger foundation for crypto moving forward.
Rupert's Thoughts
"The BlockFI situation is an absolutely abysmal scenario. There's no doubt about it. How he was allowed to get away with that level of fraud is beyond me, but in terms of what it does for the industry, it is obviously not good. It proves the doubters right, but from a maximalist point of view, it creates a stronger foundation for crypto moving forward as long as these kind of black swan events don't continue to happen, and the founding principles get utilized more and more. Then, crypto has a really strong future.
In terms of how it affects Web3, it's my belief that there's a big difference between crypto and Web3. And a lot of the stuff that we are doing is with brands, and brands are still focused on the benefits of Web3 for customer engagement, not necessarily the pure crypto monetary value of being involved in the space, but much more the connectedness that crypto and Web3 can bring for its future consumers."
Latest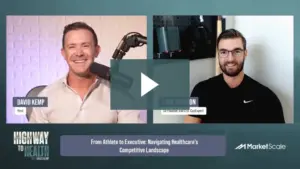 September 28, 2023
Navigating healthcare's competitive landscape requires innovative solutions addressing care quality and affordability. CapExpert is a game-changer in outpatient healthcare. It enhances asset management, ensuring the best care for patients. Luke Johnson, Co-Founder and CEO of CapExpert, spoke with Highway to Health's David Kemp on how CapExpert enhances asset management, bridging visibility gaps and streamlining […]
Read More